All Stories
Canadore College's ICAMP takes another innovative step to support business development in the North
Mar 30, 2021 | Cindy Males, Public Relations and Communications Specialist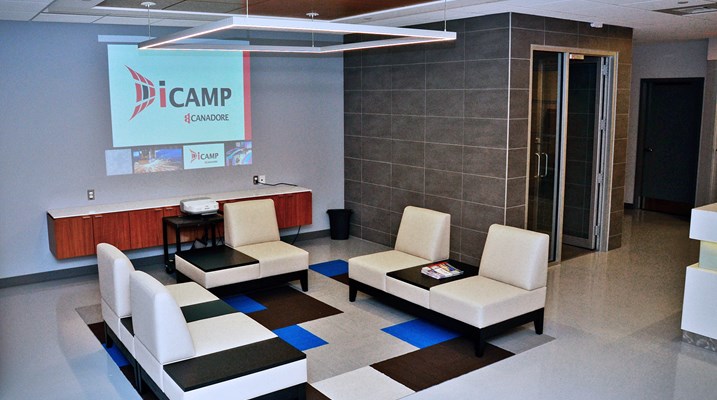 The Innovation Centre for Advanced Manufacturing and Prototyping (ICAMP) at Canadore College is now expanding its capability to provide a variety of services through the establishment of The Industrial Solution Centre. The Centre will be a division of ICAMP that will be located at Canadore's Commerce Court Campus. It will provide specialized equipment that companies wishing to start up or scale up can use to participate in the design, development and testing of their innovative ideas under the guidance of qualified engineering personnel.
The Centre is a joint initiative of ICAMP, Innovation Initiatives Ontario North (IION) and EnCata. EnCata can best be described as an engineering catalyst with a proven record of connecting engineers with innovative people to determine the most cost-effective product development and manufacturing process.
"Students will work with these companies through the Centre, and we have no doubt that they will bring new and progressive skills to the workforce when they graduate," said Canadore College President and CEO George Burton.
The Centre will expand the existing engineering capacity within the region and bring much needed specialized engineering talent to Northeastern Ontario.
"I see the partnership as creating a new kind of innovation zone," said Rob Deline, the Executive Director of IION. "IION is the regional innovation centre that helps entrepreneurs become successful by accelerating access to technology, alignment of commercialization opportunities and connecting them to resources and expertise. "
"Through these advanced prototyping capabilities, I see opportunities for contract research and development. There just aren't places for companies to go to get this sophisticated problem solving done. I think this is going to drive a lot of local and regional innovation, and new intellectual property." said Deline.
"A very common problem around the world is that people come with ideas and they're expecting design houses or companies to develop things from scratch. That works, but it's a costly process," said EnCata's Co-Founder Dr. Peter Dudin. Dudin says innovators and startup teams need a space where then can make a prototype of their idea to see if it's workable and practical, iterating in their product development and product-market-fit journeys. And that's what the Industrial Solution Centre will be.
ICAMP already has a strong reputation in Northeastern Ontario for promoting innovation and applied research. Since its inception in 2013, ICAMP has worked on more than 700 projects with more than 300 different organizations. This new Centre builds on ICAMP's significant regional impact.
"The addition of the Industrial Solution Centre will provide the necessary steps throughout the commercialization process for scale up and startup companies to bring a product from concept to market readiness," said Brad Gavan, Director of Foundation, ICAMP, Corporate, Community and Alumni Partnership.
The Industrial Solutions Centre will open in early 2022.
For more information on these innovators visit:
EnCata: encata.net
Innovation Initiatives Ontario North: iion.ca
ICAMP: canadorecollege.ca/icamp
#Collaboration #Corporate Communications #Experiential Learning #ICAMP #Trades and Tech #Canadore College #sustainability
---
---