All Stories
Canadore College's Kikandaaswiwin Mookiisin teaching technology and tradition with latest workshops
Jan 22, 2021 | Cindy Males, Public Relations and Communications Specialist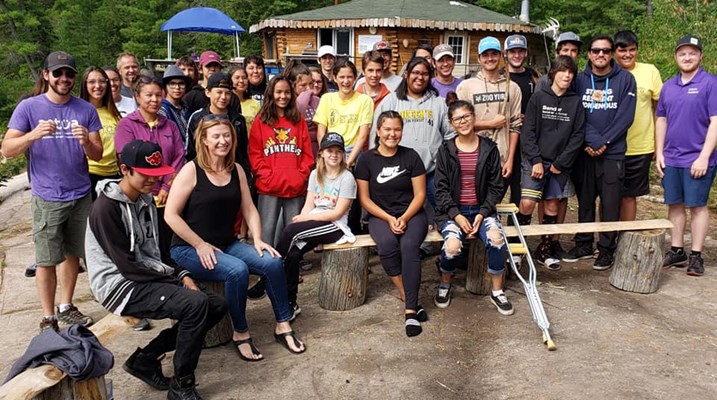 Kaitlin Commanda believes it's important for her Grade 4 students to learn about coding, in particular Indigenous computer coding.
"I wanted my students to participate, to expose them to the language of coding," said Commanda. "Our students use technology on a regular basis, and I believe it's important for them to understand exactly how and why commands and functions work."

"Being a First Nations School, they were interested in many of the examples shared by the Kikandaaswiwin Mookiisin program, relating to their culture. For example, conversations about symbols and pictures depicted on rocks in their local area of Dokis First Nation and how they can relate this to the language of code," she said.

Canadore's Kikandaaswiwin Mookiisin is a program offered through the School of Indigenous Studies and the College's First Peoples' Centre. The program celebrates Indigenous STEAM (Science, Technology, Engineering, Arts and Math) through land-based experiential learning. That learning draws on Indigenous ways of knowing, languages, histories and cultural practices of Indigenous communities and learners.
By teaching coding, Kikandaaswiwin Mookiisin is providing opportunities for Indigenous students to deeply explore the technological and digital tools readily available to them.
"In doing so, not only are we opening doors for Indigenous students to enter the field of coding, whether it be professionally or as a hobby," said Dakota Heon, a Canadore College graduate hired to lead the Kikandaaswiwin Mookiisin Secondary School mentorship program. "But we are also providing an opportunity for Indigenous students to envision what technology and the digital world looks like to them and how they can contribute to the advancements of these worlds."
"There are a variety of languages used to instruct, create, display and transfer information – or code. Through an Indigenous lens, this can be done through beading, which is why we chose to use the wampum belt as a key activity with students," he said.
"Historically, wampum belts were beaded to share an understanding and teaching of history, agreements and protocols for living in harmony with natural laws. Each bead within a wampum belt is a specific instruction that contributes to the overall meaning of that belt," said Heon.
Kikandaaswiwin Mookiisin partners with Actua, Canada's leading science, technology, engineering, and mathematics (STEM) youth outreach network that consists of 41 universities and colleges, including Canadore College's First Peoples' Centre. Actua annually engages with more than 35,000 First Nations, Inuit and Métis youth in more than 200 communities through school workshops and summer camp programs.
"Actua is proud to support Canadore's Kikandaaswiwin Mookiisin in offering coding and STEM programs to youth in North Bay," said Jennifer Flanagan, President and CEO of Actua. "Digital skills are incredibly important to prepare youth for whatever futures they choose to pursue. We are grateful to the Government of Canada and their CanCode program which has provided this crucial funding."
The first week of Cancode, Computer Science Education Week held in December, was aimed at children in grade four.
"Being able to understand the language of code will promote computer safety, cognitive thinking, and an overall better understanding of technology and how it works," said Commanda.

Kikandaaswiwin Mookiisin is developing coding content for all age groups. The next workshops will take place in January and February, with students in the North Bay area.

"We are showing our children and youth that coding and other STEAM-related areas are not as far out of reach as they may feel at times," said Heon. "Although these can be complex areas, there are levels at which anyone can engage with, and we are attempting to open those doors for students."
"Our hope is to have people peek in through those doors, see something that excites or interests them, and have them walk in and engage. And then hopefully through that process, they begin to see a place for themselves within these fields," he said.
To learn more about Kikandaaswiwin Mookiisin please contact Tammy Cayer-Dokis at Tammy.CayerDokis@canadorecollege.ca.
For more information about Actua visit www.actua.ca
---
---