All Stories
Canadore College Signs Pathway Agreements with Ireland's Limerick Institute of Technology
Sep 29, 2017 | Canadore College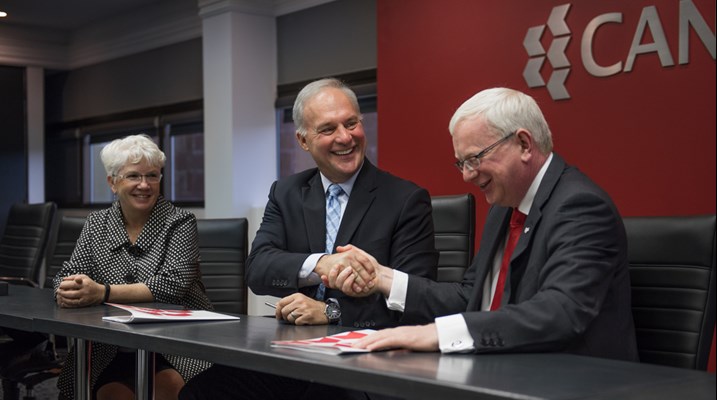 (NORTH BAY, ONT.) – This morning, five new articulation agreements were signed between Canadore College and Ireland's Limerick Institute of Technology (LIT).
"Our partnership with the Limerick Institute of Technology has been nothing short of extraordinary," said George Burton, president of Canadore College. "We consider ourselves very lucky to work with partners that provide high quality academic standards, value student engagement and success, and also value the spirit of reciprocity."
New degree pathways into LIT's honours bachelor of science in civil engineering management, honours bachelor of business, bachelor of science in creative broadcast and film production, honours bachelor of art in design and honours bachelor of arts in community sport development add to the list of previous agreements, which include articulations for Canadore students into their bachelor of arts in culinary arts and bachelor of science in sports strength and conditioning.
In order to be eligible for advanced standing into one of LIT's bachelor programs, students must successfully complete Canadore's culinary management, strength and sport conditioning, broadcast television, graphic design, recreation and leisure services, civil engineering technology, business or digital cinematography diploma programs.
Canadore initiated a partnership with LIT in 2014, which framed areas of cooperation in the exchange of students and employees; academic materials; as well as the creation of collaborative programs leading to joint credentials and research activities and business incubation centre activities. Nearly 20 Canadore alumni have articulated directly into LIT degree programs, with 10 celebrating the completion of their bachelor degrees today at Canadore College in North Bay, Ont.
Photo - left to right: Mary O'Farrell-Bowers, Canadore College vice-president of academic; George Burton, Canadore College president and CEO; Limerick Institute of Technology Professor Vincent Cunnane, president
Canadore College trains people through applied learning, leadership and innovation. It provides access to over 75 full-time quality programs and has outstanding faculty and success services to students from nearly 400 Canadian communities and 15 international countries. The College and its students add nearly $244 million to Nipissing Parry Sound Service Area economy. Approximately 1,000 students graduate from Canadore each year, and they join 44,000 alumni working across the globe. Canadore receives less than 50 per cent of its traditional funding from the provincial Ministry of Advanced Education and Skills Development and relies on its own innovation and entrepreneurial endeavours and generous donors for the balance.
For more information, please contact: Jessica Charette at 705.475.2538 or jessica.charette@canadorecollege.ca; Carrie Richmond at 705.474.7600, ext. 5216 or carrie.richmond@canadorecollege.ca
#Admissions #Collaboration #Credit Transfer Pathways #Culinary #General #International #Media #New #Programs #Recruitment #Sport and Rec
---
---