All Stories
Canadore College Social Service Worker Students Given Competitive Edge
Feb 28, 2017 | Jessica Charette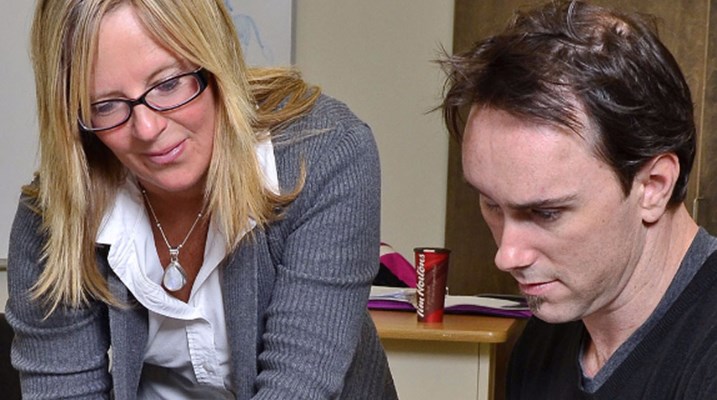 (NORTH BAY, ONT.) -- Students from Canadore's upper year of its Social Service Worker (SSW) program have a leg up on the competition.
On top of what is needed to graduate the program in and of itself, the group successfully completed five employment-specific certifications – Non-Violent Crisis Intervention, Mental Health First Aid, Wellness Recovery Action Planning (WRAP), and online modules in workplace hazardous materials information system (WHMIS) and accessibility for Ontarians with disabilities act (OADA).
"These are certifications typically delivered by the workplace once they have hired an employee," said Darlene Vanderlee, professor of Canadore's SSW program. "In each case, employers spend thousands of dollars in registration and travel fees. To have students come to employers ready to work in the field fully-qualified with these additional training qualifications may in fact give them that competitive edge ahead of the average applicant."
Two second year students, Brianne MacDowell and Marcus Lester Etienne, are thrilled with the supplementary experience.
"I'm so grateful to have had the chance to take these extra certifications," said MacDowell, originally from Flesherton, Ont. "The knowledge I gained will be very useful on the job, will make me a better employee and will save my employer thousands of dollars in extra training."
After graduation in June, MacDowell hopes to gain full-time employment in her field working with youth as a counsellor.
Etienne, a student from North Bay, Ont. by way of Colihaut, Dominica with a Bachelor's degree in Sociology from Nipissing University said the additional certifications gave him with timely insight into his profession through the eyes of real-world experts.
"Dealing with challenges related to mental health is a reality in today's world, weather the rest of society wants to see it that way or not" said Etienne. "This opportunity provided to me by Canadore means that I will arrive at my future workplace ready to contribute right away. The facilitators gave my classmates and I amazing tools that we can carry with us throughout our careers. We are a high breed of social service workers and we are ready to take on leadership roles."
Etienne is one of 80 students studying at Canadore through the Nipissing Poverty Reduction through Education Program (NPREP), a project delivered in a partnership between Canadore and the Nipissing District Social Services Administration Board (DNSSAB) that aims to leverage individuals' potential through the application of intensive and customized education plans.
Following graduation in June, he would like to find full-time employment helping youth break poverty cycles, understand their own self-worth, and support them through life transitions and to overcome challenges associated with legal troubles.
"I fervently believe that the youth are the most integral part of our society today; they are how we will better our societies demographically, economically and socially. If we fail them as they are coming into their own person, then it is us as a society who is to suffer in the future when we have no one to support or aid us in our later years. Assigning focus and timely energy on the youth today, while we are able to help them, is a noteworthy motive in my quest to give back."
Vanderlee says the program will continue to deliver these additional certifications in subsequent SSW intakes. Canadore is still accepting applications into the program for the September 2017 semester.
Canadore trains people through applied learning, leadership and innovation. It provides access to over 65 full-time quality programs and has outstanding faculty and student services. The College and its students add nearly $290 million to the regions of Nipissing and Parry Sound. Approximately 1,000 students graduate from Canadore each year, and they join 43,000 alumni working across the globe.
#Collaboration #Employer Services #Experiential Learning #Health, Human, Wellness
---
---