All Stories
Canadore College Student and Graduate Satisfaction Above Average
Apr 19, 2017 | Canadore College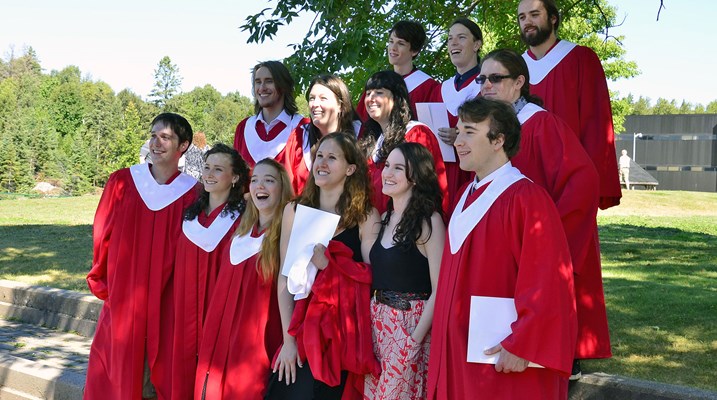 NORTH BAY, ONT.) -- Canadore College is above the provincial college system's average in six performance indicators according to the provincial Key Performance Indicator (KPI) survey results released today.
Overall, Canadore exceeds the provincial average in graduate satisfaction, overall student satisfaction and graduation rate. In comparison to its peer colleges, Canadore's students feel more confident that their program is giving them the knowledge and skills they need to be useful in their future career, are more assured by the overall quality of the learning experiences in their program and express greater satisfaction in the overall quality of the services at the college.
91.4 per cent of Canadore College students rate their program as giving them the knowledge and skills that will be useful in their future career (86.9 provincial average)
84.3 per cent of Canadore College students highly rate the overall quality of learning experience in their program (79.5 provincial average)
81.0 per cent graduate satisfaction with Canadore College graduates (78.8 provincial average)
79.3 per cent of Canadore College students are report being satisfied overall (76.5 provincial average)
72.3 per cent of Canadore College students attain graduation criteria (66.6 provincial average)
68.7 per cent of Canadore College students highly rate the overall quality of the services in the college (64.6 provincial average)
"As our college system celebrates its 50th anniversary this year, this data confirms that Canadore is the college of choice, a choice that leads to meaningful and lasting employment," said George Burton, president and CEO of Canadore College. "As a college, we see direct correlation between community investment and support and our KPI results. Investing in Canadore provides an immediate return on investment and improved outcomes further into the future."
Ontario's colleges offer more than 900 programs that prepare people for a wide range of careers in everything from aviation, advertising and the skilled trades to business, nursing, biotechnology and much more.
Ontario college programs continue to be closely aligned with changing labour market demands in communities. Colleges work closely with business and industry leaders to ensure programs respond to shifts in local employers' needs.
The provincial government and the colleges have been gathering the annual data on college results since 1998. The most recent KPIs were gathered by two independent research firms in the period from March 2016 to February 2017.
"I'm proud to report that these are some of the best results we've seen in five years," said Burton. "I credit the entire Canadore collective for taking a personalized and student-centric approach to our programming and services, and for always asking 'what's next' to develop opportunities for improvement. Thanks to this team effort, our regional, provincial and international employers know that our graduates are ready to bring creative solutions to the table to meet the challenges of today's economy."
Canadore trains people through applied learning, leadership and innovation. It provides access to over 75 full-time quality programs and has outstanding faculty and student services. The College and its students add nearly $290 million to the regions of Nipissing and Parry Sound. Approximately 1,000 students graduate from Canadore each year, and they join 43,000 alumni working across the globe.
For more information, please contact: Jessica Charette at 705.475.2538 or jessica.charette@canadorecollege.ca; Carrie Richmond at 705.474.7600, ext. 5216 or carrie.richmond@canadorecollege.ca
#Admissions #Corporate Communications #General #New #Office of the President #Profile #Programs #Student Life
---
---