All Stories
Canadore College Student, Graduate and Employer Satisfaction Above Average
Nov 19, 2018 | Canadore College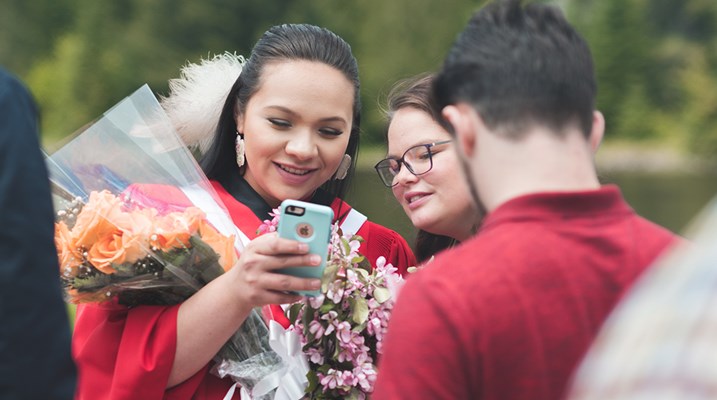 (NORTH BAY, ONT.) -- Canadore College is above the provincial college system's average in six performance indicators according to the provincial Key Performance Indicator (KPI) survey results released today.
Overall, Canadore exceeds the provincial average in student, graduate and employer satisfaction. Compared to other publicly-assisted colleges across Ontario, Canadore's students feel more confident that their program is giving them the knowledge and skills they need to be useful in their future career, are more assured by the overall quality of the learning experiences in their program and express greater satisfaction in the overall quality of the services at the college.
93.8 per cent of employers hiring Canadore College graduates are satisfied with the college's alumni
86.9 per cent of Canadore College students rate their program as giving them the knowledge and skills that will be useful in their future career (84.4 provincial average)
79.8 per cent of Canadore College students highly rate the overall quality of learning experience in their program (75.5 provincial average)
82.1 per cent graduate satisfaction with Canadore College graduates (79.1 provincial average)
75.3 per cent of Canadore College students are report being satisfied overall (73.4 provincial average)
72.3 per cent of Canadore College students attain graduation criteria (66.6 provincial average)
63.1 per cent of Canadore College students highly rate the overall quality of the services in the college (61.1 provincial average)
Ontario's colleges offer 900 programs that prepare students for success in all sectors, including careers in aerospace, business, health care, tourism and hospitality, advertising, engineering, technology and advanced manufacturing. More than 240,000 full-time students and about 300,000 part-time students are enrolled in Ontario's college programs, including record numbers of international students.
Ontario college programs continue to be closely aligned with changing labour market demands in communities. Colleges work closely with business and industry leaders to ensure programs respond to shifts in local employers' needs.
The provincial government and the colleges have been gathering the annual data on college results since 1998. The most recent KPIs were gathered by two independent research firms in the period from March 2017 to February 2018.
"New technologies are revolutionizing the workplace around the globe, and adding layers to the need to be competitive," said George Burton, president and CEO of Canadore College. "With this in mind, we are teaching our students to be entrepreneurial and innovative while reflecting employers' needs and today's society. College education provides an extraordinary value and is pivotal to the province's economic prosperity."
.Canadore College trains people through applied learning, leadership and innovation. It provides access to over 75 full-time quality programs and has outstanding faculty and provides success services to students from nearly 400 Canadian communities and 15 international countries. The College and its students add nearly $244 million to Nipissing Parry Sound Service Area economy. Approximately 1,000 students graduate from Canadore each year, and they join 45,000 alumni working across the globe. Canadore receives less than 50 per cent of its traditional funding from the provincial Ministry of Training, Colleges and Universities and relies on its own innovation and entrepreneurial endeavors and generous donors for the balance.
For more information, please contact: Jessica Charette at 705.475.2538 or jessica.charette@canadorecollege.ca; Carrie Richmond at 705.474.7600, ext. 5216 or carrie.richmond@canadorecollege.ca
#Aboriginal #Admissions #Aviation and Aerospace #Business #College Drive #Comm Justice #Commerce #Corporate Communications #Credit Transfer Pathways #Culinary #Employer Services #Enviro and Biotech #Experiential Learning #Film #FinAid #First Gen #First Peoples' Centre #General #Health, Human, Wellness #Access and Inclusion #Indigenous Studies #International #Language and Prep #Media #New #Parry Sound #Police Foundations #Profile #Programs #Recruitment #Research #Sport and Rec #Student Life #Student Success Services #Theatre #Trades and Tech #Sport and Wellness
---
---