All Stories
Canadore College student leading conservation efforts for sea turtles in the Caribbean
Apr 1, 2021 | Cindy Males, Public Relations and Communications Specialist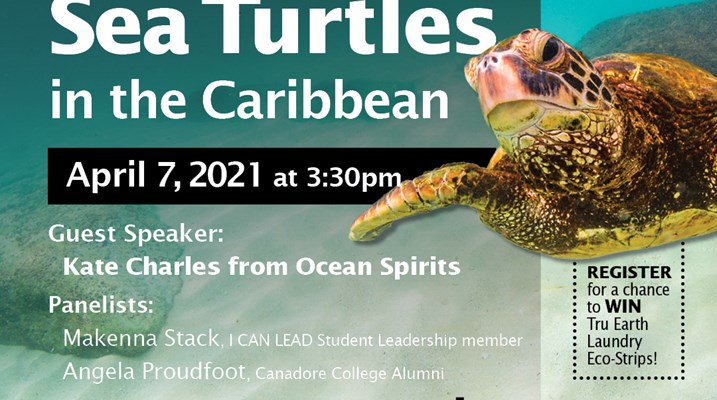 "I am extremely passionate about the ocean," says Canadore College student Mackenna Stack. "The ocean supplies at least half of the Earth's oxygen. This means the ocean is something we need to take care of and protect."
Stack is a member of Canadore's I CAN LEAD student leadership team and she's one of the leaders organizing a public webinar on the Conservation of Sea Turtles in the Caribbean on Wednesday, April 7, 2021, at 3:30 pm.
"I think it's important to be aware of these issues even if we are far from the ocean here in Northern Ontario! There are many things we can do to help with ocean pollution," said Stack.
Kate Charles from Ocean Spirits is the webinar keynote speaker. Ocean Spirits is a non-profit marine conservation organization based in Grenada, focused primarily on the conservation of marine turtles.
"The Ocean Spirits project has done years of research on turtles and has been able to highlight the issues sea turtles are facing, and how we can help," said Stack.
"What many may not realize is that sea turtles are incredibly important in helping maintain food webs below water, have relevance in balancing seagrass and coral reefs, and are part of nutrient cycling which affects land and water," said Angela Proudfoot, a graduate of two of Canadore's environmental programs. "When you look at all of that, you realize how interconnected we all are."
"I am a certified advanced open water scuba diver which allows me to have an intimate view of life below water and how it is currently being impacted. Seeing what is going on drives home how much we need to do to protect it and to alert others of how important it is and how they can do their part," said Proudfoot who is Mackenna Stack's mentor for this project.
The I CAN LEAD program brings students together from different cultures and empowers them to become better global citizens. The team is an interdisciplinary network of students taking action to raise awareness about the United Nations 17 Sustainable Development Goals (SDGs) (17 Sustainable Development Goals). The UN launched its Agenda for Sustainable Development laying out 17 goals to end poverty and set the world on a path of peace, prosperity and opportunity.
Mackenna Stack has chosen to focus on SDG 14/Life Below Water – Conserve and sustainably use the oceans, seas and marine resources for sustainable development.
"I hope people take away from the webinar that even though we may be far from the oceans that we still have a major impact on life within them. There are things we can do here in Northern Ontario to help support sea turtles and protect our oceans."
For more information and to register visit
https://zoom.us/webinar/register/WN_vgUs0dwkQq6RDotakso7dg
---
---