All Stories
Canadore College Students Asked to Pitch a New Logo for the North Bay Youth Club
Apr 9, 2018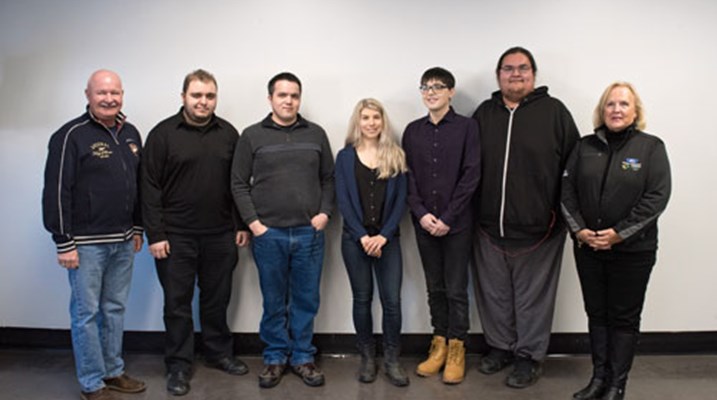 Recently, the North Bay Youth Soccer Club approached Canadore's second-year graphic design students with the challenge of creating a new logo.
Club president, Sue Knight, and head coach, Paul Cook, attended the college's Illustration-Mixed Media class today to deliver the results of the contest.
The contest was launched to the entire class in early March and the Board received 20 logos to deliberate. Cook said that the Board was so impressed with the submissions they received that they weren't able to whittle it down to the top three as originally determined, but instead chose to acknowledge the wonderful work of five students with monetary rewards.
1

st

Place Sydney Hoffman ($500)
2

nd

Place Matteo Mione ($100)
3

rd

Place Ryan Fecteau ($100)
4

th

Place Conner Sutherland ($50)
5

th

Place Gerry Mueller ($50)
Hoffman's logo will be put to use by the club as early as the upcoming season.
The logo design is also being evaluated as a mandatory assignment. Professor Shirley Mondoux will be grading the students' work on the basis of the logo's alignment with the client's stated specifications, concept design, client presentation and rationale.
Many non-profit organizations approach Canadore's professors hoping to bridge gaps on their projects with the help of emerging student talent. As a result, Canadore faculty have designed experiential learning opportunities that mesh with class assignments and meet the needs of the organizations. The North Bay Youth Soccer Club pitch is one example of the added value that Canadore and its students bring to the community.
#Collaboration #College Drive #Events #Experiential Learning #General #Media #New #Program Development #Programs #Student Life #Student Success Services
---
---