All Stories
Canadore College students can tour the campus from anywhere
Jul 15, 2020 | Cindy Males, Public Relations and Communications Specialist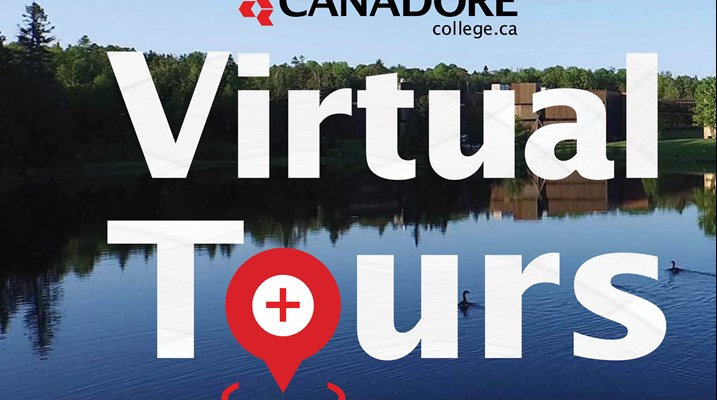 Canadore College recognizes that choosing the right college to attend is a big decision. And while COVID-19 has changed the way colleges are recruiting students, Canadore has risen to the challenge and is launching virtual campus tours.
"Our academic program teams and quality have remained constant during these unusual times, and so have the relationships with our applicants and students," said Shawn Chorney, Vice President of Enrolment Management, Indigenous and Student Services. "These virtual tours allow us to connect on a deeper level even though we can't be face to face yet. But once we can, students will have a familiarity and comfort with our remarkable campus spaces and be able to experience them fully."
The virtual tour will let students learn about the Canadore experience from the comfort of their own homes.
"As students explore, and click-through our virtual campus tours, they will experience Canadore by interacting with 360° content, photos, videos, and stories," said Josh Willard, Canadore's Supervisor of Marketing and Social Media. "Just like an in-person walk-through, the tours showcase campus life, and Canadore's world-class facilities, enabling students to imagine themselves on campus, and get a sneak peek into their classrooms and labs while interacting with the spaces that interest them."
Students, and their families, can take the virtual tours on their own, or Canadore's recruiting team is available to be virtual tour guides.
"Our team is excited to be able to offer individualized walk-throughs virtually," said Jesse Russell, Canadore's Coordinator, Recruitment and Liaison. "This will enable us to connect in meaningful ways with prospective students both domestic and abroad."
The virtual tours, and members of Canadore's recruitment team, are available at www.canadorecollege.ca/tours.
-30-
Canadore College trains people through applied learning, leadership and innovation. It provides access to over 80 full-time quality programs and has outstanding faculty and provides success services to students from nearly 400 Canadian communities and 15 international countries. The College and its students add nearly $244 million to the Nipissing Parry Sound Service Area economy. Approximately 1,000 students graduate from Canadore each year, and they join 46,000 alumni working across the globe. Canadore receives less than 50 per cent of its traditional funding from the provincial Ministry of Training, Colleges and Universities and relies on its own innovation and entrepreneurial endeavors and generous donors for the balance.
For more information please contact Cindy Males at 705-475-2538 or at Cindy.Males@canadorecollege.ca
#Admissions #Aviation and Aerospace #College Drive #Commerce #Corporate Communications #Events #General #Parry Sound #Residence
---
---