All Stories
Canadore College takes the lead in new cannabinoid research paper
Aug 3, 2022 | Cindy Males, Public Relations and Communications Specialist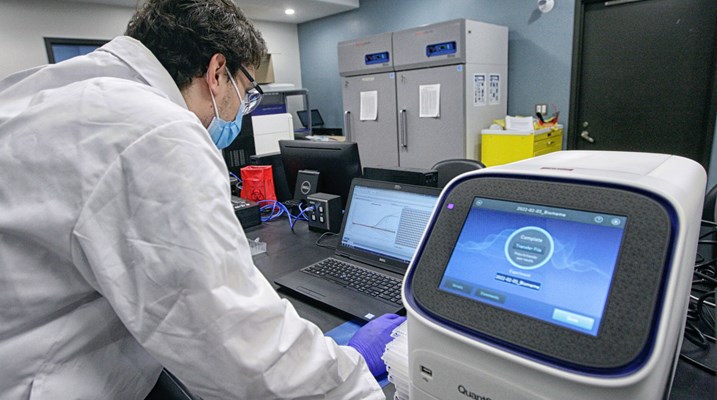 Researchers at Canadore College have collaborated with international experts in the field of pain and wound care on a review of all evidence – clinical and pre-clinical – surrounding the use of cannabinoid formulations and how they are used to treat wounds. Dr. Pritesh Kumar, Director of Cannabinoid Research, and David Villeneuve, professor and coordinator of Canadore's Genomics Lab, participated in the review "Evidence-based Potential Therapeutic Applications of Cannabinoids in Wound Management" published in the journal Advances in Skin and Wound Care.
"The main purpose of this review paper was to summarize previously published literature and to put it into perspective," said Kumar. "We learned there are potential applications of cannabis in the treatment of different types of wounds, and there is evidence suggesting that cannabinoid-based medications may have a potential role in improving wound-management outcomes."
"Publications are one of the foundational points in any strong research program at a college or university. This was not research that occurred at Canadore, but having Canadore faculty be part of a publication that was accepted in a leading journal that was peer reviewed lends credibility and support to the program we are building," said Kumar.
"It was incredibly interesting to participate in this project with so many international collaborators," said Villeneuve. "It was an opportunity to learn about the medical applications of CBD, which opens many more research opportunities for Canadore College in the future."
​​​​​Advances in Skin and Wound Care is a monthly peer-reviewed, interprofessional journal which is highly regarded for its unique balance of cutting-edge original research and practical clinical management articles on wound prevention and treatment. The review led by Kumar and Villeneuve referenced the small or insufficient number of clinical trials into the effective use of topical cannabis-based medicines.
"Studies on the efficacy, safety, drug interactions, and cost effectiveness of cannabis formulations would be valuable for decision-making regarding the future use of cannabinoids in wound treatment and management," said Kumar. "Canadore will participate in the next review. Given that Canadore was recently issued its cannabis research license from Health Canada, we have the facilities to collaborate in this type of research and assist companies seeking contract research services for product development. These collaborations will provide the experiential learning opportunities Canadore seeks for its students."
To read the article, visit https://pubmed.ncbi.nlm.nih.gov/35588193/
---
---