All Stories
Canadore College Talking to End Stigma
Jan 30, 2018 | Canadore College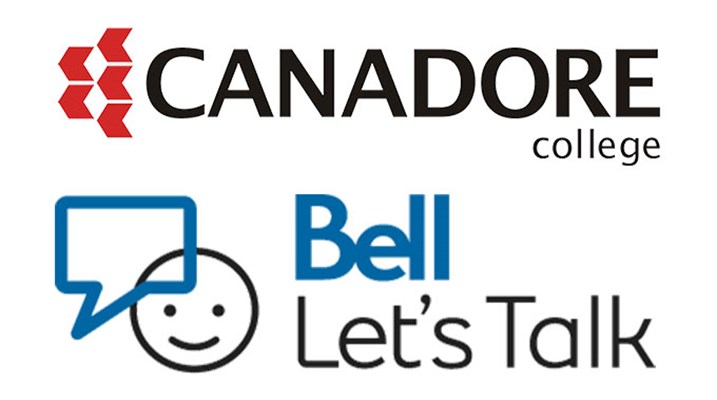 (NORTH BAY, ONT.) – Canadore College's student success services team is organizing a range of informal events to support the nation-wide Bell Let's Talk campaign taking place tomorrow.
On January 31, Bell will donate 5 cents to mental health initiatives for every text message sent, mobile and long distance calls made by its customers, as well as for every Tweet using #BellLetsTalk and Facebook image share.
Prevalent research shows that one in five Canadians will experience a mental health disorder at some point in their lives. Despite the fact that mental illness is widespread, its stigma often prevents people from seeking help or even talking about it with others.
At Canadore College, nearly 25 per cent of the student body self-identifies that they have a mental illness and seek support from the Student Success Services office.
"Mental illness can take on many forms and levels of complexity, just like physical ailments do," said Jessica Rochon, student triage navigator at Canadore College. "The good news is that mental illness can be treated. The more we talk about it, the more we will push back against fear."
Canadore's Student Success Services is hosting events for Bell Let's Talk Day at of its campuses, promoting open discussion about mental health, reducing stigma on campus, and how to access information and resources.
Event: Canadore College's Bell Let's Talk Day 2018
Date: Wednesday, January 31, 2018
Time: 11 a.m. - 1 p.m.
Locations:
NORTH BAY, ONT.: Aviation Campus (55 Aviation Avenue), College Drive Campus (100 College Drive) and Commerce Court Campus (60 Commerce Court)
PARRY SOUND, ONT.: West Parry Sound Campus (1 College Drive)

Canadore remains committed to supporting the overall well-being and success of its students. The College is renowned across the province for its wraparound mental health framework, including extensive life promotion programming, an on-campus mental health triage nurse, and an Indigenous cultural advisor. Canadore is also home to an innovative light therapy lounge to counteract the challenges associated with a lack of natural light, and recently announced the launch of a life coaching initiative for learners, and students' increased access to medical professionals through telemedicine.
Canadore College trains people through applied learning, leadership and innovation. It provides access to over 75 full-time quality programs and has outstanding faculty and success services to students from nearly 400 Canadian communities and 15 international countries. The College and its students add nearly $244 million to Nipissing Parry Sound Service Area economy. Approximately 1,000 students graduate from Canadore each year, and they join 44,000 alumni working across the globe. Canadore receives less than 50 per cent of its traditional funding from the provincial Ministry of Advanced Education and Skills Development and relies on its own innovation and entrepreneurial endeavours and generous donors for the balance.
For more information, please contact: Jessica Charette at 705.475.2538 or jessica.charette@canadorecollege.ca; Carrie Richmond at 705.474.7600, ext. 5216 or carrie.richmond@canadorecollege.ca
#Aviation and Aerospace #Canadore Students' Council #Collaboration #College Drive #Comm Justice #Commerce #Events #General #Parry Sound #Student Life #Student Success Services
---
---