All Stories
Canadore College to Offer E-Apprenticeship Program
Jan 8, 2018 | Canadore College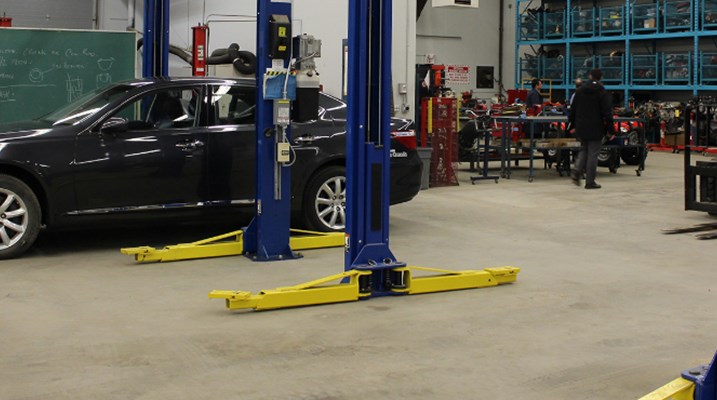 (NORTH BAY, ONT.) – For the first time in Ontario, automotive service technician apprentices will be able to earn educational hours online through Canadore College.
"Traditionally, apprenticeship education hours have been confined to in-person learning," said Mark Lamontagne, dean of trades and technology. "This new delivery option is remarkable because it becomes more cost-effective for the students by giving them the chance to stay in their home communities and remain working while still providing a highly-interactive educational experience."
Lamontagne goes on to say that the hybrid delivery model was devised by Canadore College to more closely mirror on-the-job training provided by employers and includes constant interaction with employers, instructors, other apprentices as well as simulation software.
"A lot of our industry-based training is done online, so this new format will better prepare our people for the ongoing industry professional development," said Chris Tonge, fixed operations manager at Cavalcade Ford Lincoln in Bracebridge, Ont. "By sponsoring an apprentice in an online program we have the ability to retain the apprentice's services during busy hours and release them to complete studies during slower times. It would really work well for us."
The automotive service technician apprenticeship program is regulated by the Ontario College of Trades. Qualified technicians have a minimum of Grade 12 high school education and 7,220 hours of apprenticeship training; 6,500 of which are on-the-job work experience and 720 hours in-school. With Canadore's hybrid delivery model, over 80 per cent of the educational portion will be delivered online, with the remainder being delivered in the hands-on shop at the College.
Canadore College welcomes approximately 115 apprentices each year in the automotive service technician program levels 1-3. It is anticipated that the program will experience higher enrolment as a result of students being able to access the program from any community, including underserviced areas.
The delivery method was endorsed by the Ontario College of Trades and approved by the Ministry of Advanced Education and Skills Development (MAESD) and the inaugural hybrid apprenticeship program is anticipated for delivery in Fall 2018.
Canadore College trains people through applied learning, leadership and innovation. It provides access to over 75 full-time quality programs and has outstanding faculty and success services to students from nearly 400 Canadian communities and 15 international countries. The College and its students add nearly $244 million to Nipissing Parry Sound Service Area economy. Approximately 1,000 students graduate from Canadore each year, and they join 44,000 alumni working across the globe. Canadore receives less than 50 per cent of its traditional funding from the provincial Ministry of Advanced Education and Skills Development and relies on its own innovation and entrepreneurial endeavours and generous donors for the balance.
For more information, please contact: Jessica Charette at 705.475.2538 or jessica.charette@canadorecollege.ca; Carrie Richmond at 705.474.7600, ext. 5216 or carrie.richmond@canadorecollege.ca
#Collaboration #Commerce #Experiential Learning #General #New #Program Development #Programs #Trades and Tech
---
---