All Stories
Canadore College to Welcome Newest Alumni
May 31, 2017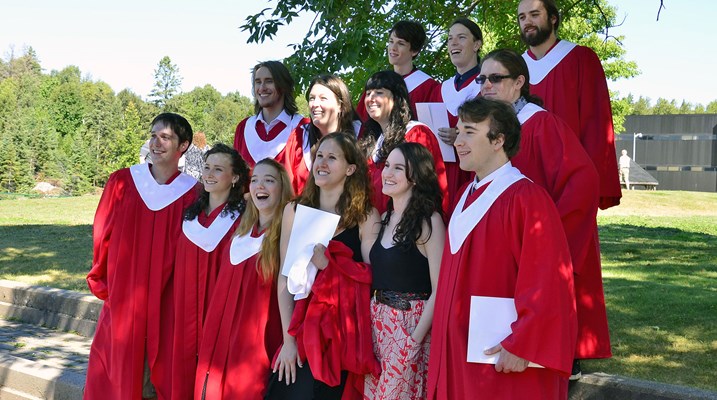 (NORTH BAY, ONT.) -- Canadore College is hosting its Convocation Ceremonies for the Schools of Business and Management; Community, Justice and Police Studies; Culinary Arts; Language, Access and Preparatory Studies; Media, Design and Dramatic Arts; and Sport and Recreation on June 1.
Guest speaker Jake Lacourse, Canadore College alumni president and advisor at Kennedy Insurance Brokers, Inc., will be speaking to approximately 400 graduates.
Lacourse is born and raised in North Bay and has held a myriad of volunteer positions and club affiliations, ranging from the North Bay and District Chamber of Commerce to the North Bay Family Resource Centre, the Northeastern Tourism Marketing Partnership Corporation to Special Olympics Ontario, and many more. For three years, Lacourse has acted as the president of his alma mater, Canadore College, where he graduated from the hotel, resort and restaurant administration program. He is the recipient of numerous awards, decorations and medals from the Chamber, Rotary Club of North Bay and Scottish Rite Charitable Foundation of Canada. Lacourse and his wife Michelle have two children they are proud to be raising in North Bay and area.
"If I had to write the definition of a proud Ontarian, I would describe Jake," said George Burton, President and CEO of Canadore College. "If you've ever had the pleasure of working with Jake on a committee, you know as well as I do that he brings seemingly inexhaustible passion, expertise, leadership and determination to the table. Our community has benefitted, and will undoubtedly continue to prosper as a direct result of his efforts."
Canadore is very proud of its graduates for their accomplishments and for achieving their education goals. Each year, approximately 1,000 students graduate from the College, joining a network of 44,000 alumni working across the globe.
The ceremonies are being held at the College Drive Campus (100 College Drive, North Bay, Ont.) on June 1 at 10 a.m.
The remaining Convocation Ceremonies will take place on:
June 2, 10 a.m. – Environmental Studies and Biotechnology; Health, Human Care and Wellness; Indigenous Studies programs (College Drive Campus)
June 9, 10 a.m. – Aviation Technology and Trades and Technology programs (Aviation Technology Campus, 55 Aviation Avenue, North Bay, Ont.)
Canadore's ceremonies are being live streamed and relayed on TVCOGECO North Bay on channel 12 and in HD on channel 700; web viewers can tune in at http://www.canadoretv.com.
Canadore trains people through applied learning, leadership and innovation. It provides access to over 75 full-time quality programs and has outstanding faculty and student services. The College and its students add nearly $290 million to the regions of Nipissing and Parry Sound. Approximately 1,000 students graduate from Canadore each year, and they join 44,000 alumni working across the globe.
---
---