All Stories
Canadore College welcomes back one of its first graduating classes
Sep 26, 2022 | Cindy Males, Public Relations and Communications Specialist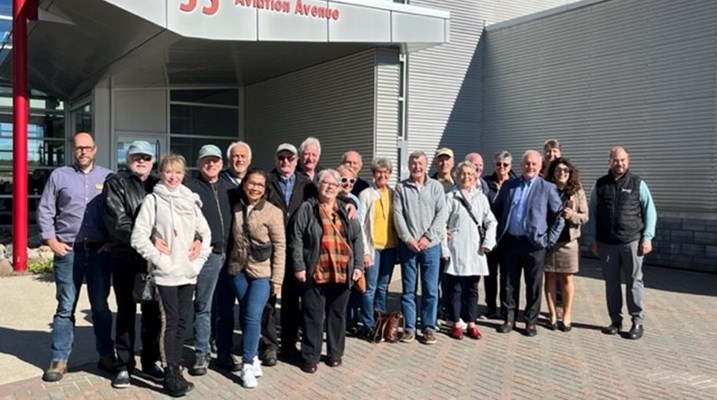 Darlene Tripp-Simms, one of the first women in Canadore's Aircraft Maintenance program (AMT), couldn't believe what she was seeing when she walked into the College's state-of-the art Aviation Campus.
"It's so progressive compared to what we started in, but that was all there was," she said. "To see the progression, and to see the students here in a new lifestyle, in a new time, it's truly impressive."
Fifty years ago, Tripp-Simms was part of the AMT class who learned their skills in what some of her classmates refer to as "a drafty, old barn with pigeons living in the rafters". It was located at the old Eloy's Farm site at the bottom of College Drive where Canadore's student residences are now located. Tripp-Simms graduated with her license to fly rotary-wing aircraft, and went on teach others to fly.
"The training I got from Canadore was tremendous, and it did carry me through all of my studies in Aviation from then on," said Tripp-Simms.
It's a heritage Tripp-Simms is so happy to see being carried on by other young women.
"There is a place for us in Aviation," she said. "It's been a hard go, but here we are now. Out in the bush, at least in Manitoba where I live now, it's quite common to see women fighting fires with their helicopters. We've come a long way."
Back in the early 1970s Canadore offered only two aviation programs – one to prepare graduates to become aircraft maintenance engineers, and the other to teach students how to fly helicopters. Since then, the College moved the program to the former BOMARC missile base on Highway 11 north before opening its Aviation Campus in 2002 where 9 aviation programs are now being offered.
"This campus is part of their legacy," said President and CEO George Burton. "It was great to hear the group's fond memories of Canadore, as well as the stories about their careers and all the places around the world their training took them. It was a pleasure to welcome them back."
Dan Guest, one of the organizers of this 50th anniversary reunion, graduated from both of the original AMT programs. Like many of his classmates, he worked almost everywhere in Canada and a few places around the world. He's confident the Aviation industry is in good hands.
"I went to Iran in 1978, and I spent about five years working in Sudan, in Africa," he said. "I'm struck by how far it has come from where we started in '72. I'm very impressed. I think, based on the new technology that I've seen, it's just going to improve."
#Alumni #Aviation and Aerospace #Canadore College #North Bay
---
---