All Stories
Canadore College welcomes its first students into stand-alone Nursing degree program
Sep 6, 2022 | Cindy Males, Public Relations and Communications Specialist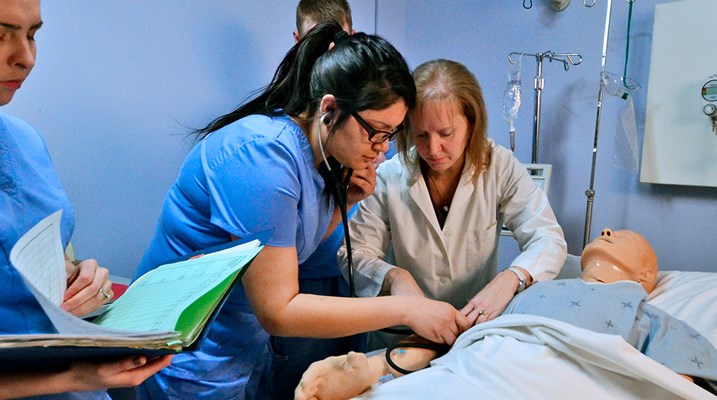 Dahlia Thibault-Sangster first developed a love of nursing as a child.
"My decision to pursue nursing started at an early age when I found my love of animals," said Thibault-Sangster. "As the years went on I started working with children with behavioural issues and found a love for helping them overcome their issues. From there my love for medicine and nursing began."
Today she is taking the first step towards making that dream come true. Thibault-Sangster is a member of the first class in the Honours Bachelor of Science - Nursing degree program at Canadore College.
"I chose Canadore because, after visiting the school and talking to some faculty members and students, I realized that this school cares a lot about its students and that I would feel welcomed at Canadore," Thibault-Sangster said.
Canadore College has been training nurses for more than 30 years. The College's nursing programs include the new stand-alone Honours Bachelor of Science - Nursing (BScN) degree, Practical Nursing, and International Nursing License Preparation, all housed in The Village, the ground-breaking approach to teaching Canada's next generation of health and wellness professionals.
Canadore College is recognized as a post-secondary leader for its use of simulation in health science education. Simulation will be a cornerstone of the BScN program.
"On behalf of the nursing faculty at Canadore College I would like to welcome our new students and express how happy we are to be officially launching our stand-alone Bachelor of Science in Nursing degree program," said Dr. Letitia Nadalin-Penno, Dean of Environmental Studies and Health Science. "We look forward to the year ahead. Next year – Fall 2023 – we will launch the new bridging program, Practical Nursing to BScN, that will go even further to help address the current shortage of nurses in our healthcare system."
"We are excited to provide greater access to people who want to pursue a nursing career, and help meet the growing need for nurses in Ontario," said George Burton, President and CEO. "Problems facing the post-pandemic healthcare system are only highlighting the need for more nurses, and Canadore believes training nurses in this region will help keep them here to the benefit of Northern Ontario."
"I'm really looking forward to making new friends and exploring what college life has to offer and, in terms of the program, I can't wait to start a clinical practicum and learn what nursing has to offer," said Thibault-Sangster.
---
---