All Stories
Canadore College welcomes refugee student and celebrates international partnerships that made it happen
Sep 1, 2021 | Cindy Males, Public Relations and Communications Specialist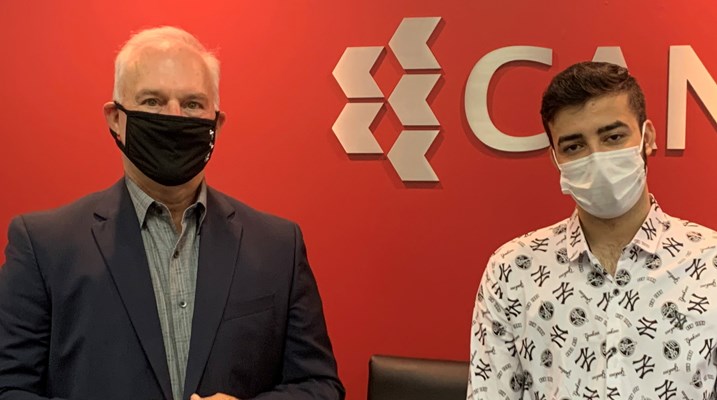 For Sameer Aljabawi the first day of school will mean more than a return to classes, it is the first step in a brand-new life. Aljabawi is a refugee student from Syria who is enrolled at Canadore College in the Pre-Health Sciences Program. Aljabawi arrived on August 11, 2021, directly from a Syrian refugee camp in Jordan.
"My journey was very difficult, starting from Syria to Jordan, full of fear and sadness. It took two days to reach Jordan," said Aljabawi. "It was a new and difficult life. My family and I needed a lot of time to adapt to that. I insisted on progress and perseverance until I achieved what I wanted – to travel in order to complete my future and the future of my family. I just wanted to complete my education," said Aljabawi.
Aljabawi came to North Bay through Canadore College's partnership with the World University Services Canada (WUSC) Student Refugee Program (SRP), a non-profit organization working to create a better world for all young people.
"The youth who arrive in Canada through the Student Refugee Program have worked for years to overcome barriers faced in refugee contexts, to complete their secondary education and achieve English or French language levels that are competitive for admission to higher education institutions," said Ashley Korn, WUSC Manager of Canadian Programming, Durable Solutions for Refugees. "Each year, thousands of refugee youth apply to the SRP. These young people's determination secures this once-in-a-lifetime opportunity to pursue their post-secondary education in Canada."
"WUSC volunteers on campus are able to make this program possible by raising awareness about the barriers refugee youth face in accessing education, and by fundraising to provide these life-changing opportunities for the SRP students that arrive in Canada to live and study as permanent residents, on the path to Canadian citizenship," said Korn.
All financial support for Sameer's education, arrival to Canada and living arrangements are made possible by a generous donation from guard.me, Canadore's student health insurance provider. The Canadore College Foundation announced back in May that it had secured a $100,000 gift from guard.me to support the College's international students and initiatives, including student refugees.
"Our philanthropy is focused on supporting guard.me's partner institutions to help students such as Sameer realize their dreams and fulfill their potential," said Keith Segal, President and CEO of guard.me International Insurance. "It's especially encouraging to know that our donations can help in such a direct way by facilitating opportunities in international education for displaced people throughout the world. On behalf of guard.me, I wish Sameer all the best for his studies and future in Canada."
"This unique alignment of the WUSC Student Refugee Program, the funding contribution from guard.me, and Canadore College's educational offer has allowed us to completely change, for the better, the life trajectory of an individual like Sameer," said Aamir Taiyeb, Canadore College's Director of International. "It has been humbling to see this process unfold. We are grateful to all the partners we have worked with, both internal and external to Canadore, in bringing Sameer to Canada, North Bay and Canadore where we hope he will find ongoing success, academically and personally."
"Sameer's story is one of perseverance and resilience," said George Burton, Canadore College President and CEO. "On behalf of everyone at Canadore I welcome Sameer to North Bay and the College. We look forward to seeing where his future takes him."
Aljabawi plans to finish the Pre-Health Sciences Program this year, and perhaps move onto the three-year Dental Hygiene program at Canadore College next year. He is looking forward to enjoying as much of the college student experience as possible.
"In my spare time, I look to participate in student activities and volunteer work," he said.
"I want to build my future in Canada, live here and serve its people who helped me. If I have the opportunity, I will bring my family to Canada so we can live here together."


-30-
About WUSC: WUSC brings together a diverse network of students, volunteers, schools, governments and businesses to improve education, economic, and empowerment opportunities for youth. The organization works to overcome inequality and exclusion in more than 15 countries across Asia, Africa, and the Americas. Through established partnerships with over 95 postsecondary institutions in Canada, including Canadore College, WUSC mobilizes over 1000 students, staff and faculty volunteers on Canadian campuses to welcome around 140 refugee youth each year.
About guard.me: guard.me is a leading provider of international student health and insurance. A trusted partner for private and public universities, colleges, language schools and school boards, guard.me provides an innovative platform of health and wellness programs and services designed to mitigate risk, manage crisis events, and improve health and wellness.
#Admissions #International #Recruitment #News #George Burton #Canadore College #President #North Bay #sustainability
---
---