All Stories
Canadore College Working to Keep Film Production in the North
Jun 28, 2016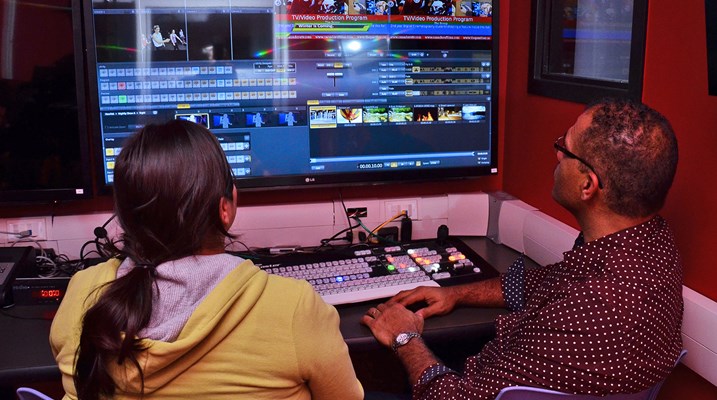 (NORTH BAY, ONT.) – After working with government and industry partners to develop a solution to keep more film and television dollars in northern Ontario, Canadore College is launching its new post-production program.
Complementary to the College's current broadcast television and digital cinematography programs, the one-year post-production graduate certificate program will create the capacity for work on film and video production to be finalized in North Bay past the initial recording stage.
"Right now, we have a booming film industry in North Bay, but it comes to an abrupt stop past the shooting stage," said Yura Monestime, Interim Associate Dean of the School of Media and Dramatic Arts. "Crews leave once the cameras stop rolling. This program will create a work force capable of putting the intricate puzzle of post-production together for television or cinema."
Canadore has its sights set on building an entire post-production studio to allow film and television projects to shoot, edit, mix and finalize their entire production in northern Ontario. As the first and only facility to have coordinated services, resources and emerging talent to see a project from seed to completion. The College's post-production facility will include an ATMOS audio mix studio, colour correction room, dialogue replacement (ADR), and specialized software and computer equipment, representing a complement of innovative technology that is not yet being used in any other teaching facility in Canada.
"We've seen a huge influx of film and video production activity in our region," said Monestime. "In the industry our community is known for being accommodating and welcome and we have a lot of the talent needed to work on set because of our programming at Canadore. In fact, 30 of students from cinematography and the TV programs were working on set within one month of graduating, which is a testament to our reputation. It usually takes years to break into the industry."
North Bay has been the site of 14 television and film productions since 2015 and last week producer Roma Roth committed to shooting a series of six mystery films in North Bay, totaling over $14 million in direct economic investment into the municipality with added job creation.
The facility will be built with a committed investment from the Northern Ontario Heritage Corporation (NOHFC) and industry partners. The College anticipates beginning construction this fall.
The program was officially approved by the Ontario Ministry of Advanced Education and Skills Development (formerly known as the Ministry of Training, Colleges and Universities) earlier this month. The first cohort is expected to be delivered in Fall 2017.

Canadore trains people through applied learning, leadership and innovation. It provides access to over 65 full-time quality programs and has outstanding faculty and student services. The College and its students add nearly $290 million to the regions of Nipissing and Parry Sound. Approximately 1,000 students graduate from Canadore each year, and they join 43,000 alumni working across the globe.
---
---