All Stories
Canadore Float Takes Top Prize in Santa Claus Parade
Nov 20, 2019 | Rebecca Morin, Web and Social Media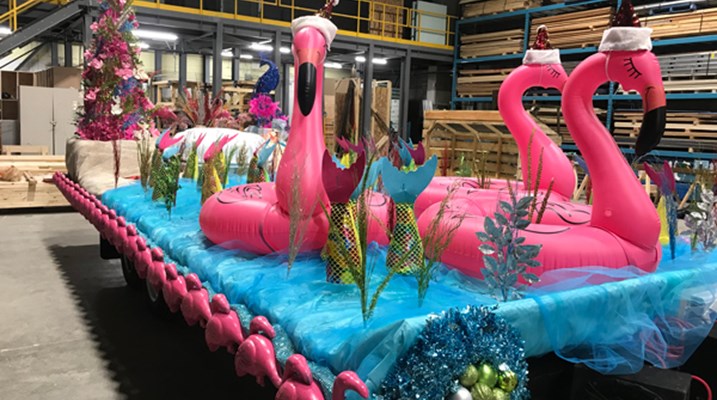 A Tropical Christmas, something we all dream of when the snow is piling high and the temperature have dropped. For those working hard to create the amazing floats you see at the Santa Clause Parade….it can be tough when starting in September, but it all paid off for the Canadore College / Canadore Students' Council float in the 2019 Santa Clause Parade here in North Bay.
The flamingo reindeer pulling a clamshell full of presents won the top prize for Post-Secondary School in the parade that took place on November 17.
The dedicated team was made up of Lise Paxton (Student Government Coordinator), faculty from the trades programs including Jill Rydall and Steven Lazarou, Cindie D'Agostino (volunteer extraordinaire) and carpentry students like Kyle Bradley. This team put in well over 100 hours of hard work to create the masterpiece.
On the day of, approximately 40 students walked in the parade along with some staff. Representatives from residence, Panther basketball and hockey, Canadore Students' Council and students from Building Construction, Trades Fundamentals and Dental Hygiene all walked together handing out candy and spreading holiday cheer.
Great work to everyone involved!
#Canadore Students' Council #Events #Experiential Learning #News #Canadore College
---
---