All Stories
Canadore Grads on the Road to Success
Jun 12, 2019 | Canadore College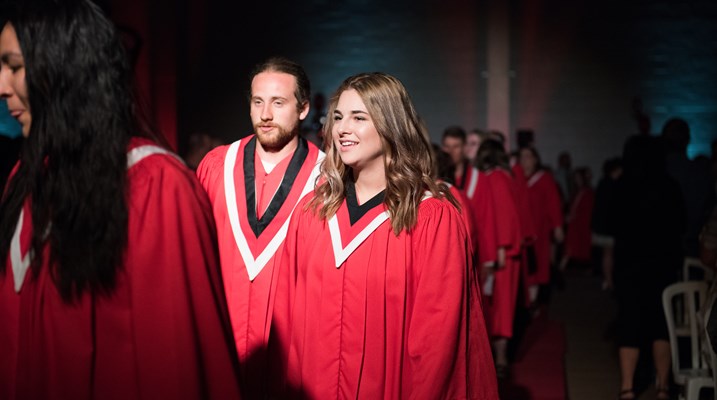 (NORTH BAY, ONT.) -- Canadore College is hosting its Convocation Ceremonies for the Schools of Aviation, and Trades and Technology on June 14.
Guest speaker Chas Eveson, director of maintenance and Transport Canada minister's delegate – maintenance at Voyageur Aerotech will be speaking to approximately 200 graduates.
Eveson began working as a maintenance apprentice at Voyageur Aerotech 16 years ago. He is a proud alumnus of the Canadore College aircraft maintenance program and also completed a McMaster University's program management fundamentals program. Eveson holds aircraft endorsements for Dash 7, Dash 8 100/20/300, CRJ 100/200/400, CRJ 700/900 and CF34-3 engine. He has travelled to many parts of the world, including north and south Sudan, the Democratic Republic of the Congo, Ethiopia and Kenya. Eveson serves on the program advisory committee for Canadore's aviation programs and is an active member of the college's mentorship program. He is also proud to be a living organ donor to his wife who battled renal failure.
Outgoing Canadore Students' Council president, Shawn Jones Jr. will be graduation on Friday. Jones is one of a dozen Canadore students who began work at Bombardier this month, a company that has been identified as one of the top 10 companies where Canadians want to work.
"Canadore College was an extraordinary place to study in my field, to transition into adulthood in a safe and supported space, and to develop positive leadership skills," said Jones, who is graduating from the aviation technology - aircraft maintenance and structures program. "As I begin my dream job at Bombardier, I feel confident in my skills and know that I am well set for career progression in the best industry in the world."
Canadore College is very proud of its graduates for their accomplishments and for achieving their education goals. Each year, approximately 1,000 students graduate from the College, joining a network of 46,000 alumni working across the globe.
Canadore's convocation ceremonies are also being live streamed at http://www.canadoretv.com.
Canadore College trains people through applied learning, leadership and innovation. It provides access to over 75 full-time quality programs and has outstanding faculty and provides success services to students from nearly 400 Canadian communities and 15 international countries. The College and its students add nearly $244 million to Nipissing Parry Sound Service Area economy. Approximately 1,000 students graduate from Canadore each year, and they join 46,000 alumni working across the globe. Canadore receives less than 50 per cent of its traditional funding from the provincial Ministry of Training, Colleges and Universities and relies on its own innovation and entrepreneurial endeavors and generous donors for the balance.
www.canadorecollege.ca
For more information, please contact: Jessica Charette at 705.475.2538 or jessica.charette@canadorecollege.ca; Carrie Richmond at 705.474.7600, ext. 5216 or carrie.richmond@canadorecollege.ca
#Alumni #Aviation and Aerospace #Canadore Students' Council #Commerce #Employer Services #Events #General #New #Profile #Programs #Trades and Tech
---
---