All Stories
Canadore Investing in Technology to Support Food Security in the North
Oct 10, 2019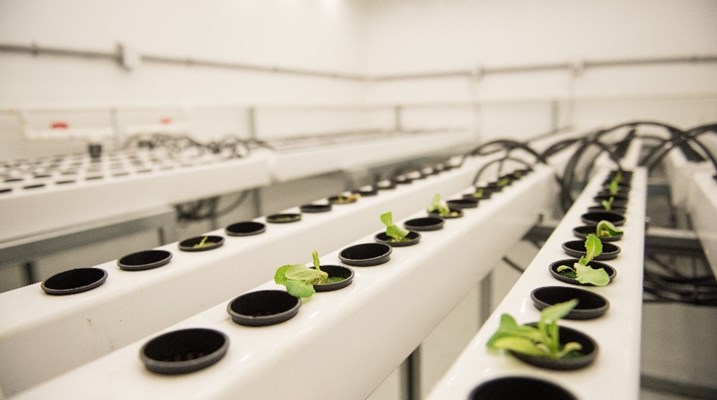 Canadore is investing in new agricultural technology in the hopes to support and change the way that food is supplied to vulnerable northern communities
Canadore has committed to investing in a sustainable food development site that will house four grow pods from EnerDynamic Hybrid Technologies Corp (EHT). Slated for delivery in November, the grow pods will initially be used for research and academic training for existing and new programs including Functional Genomics and Health Care Administration – Indigenous. Applied research will focus on food growing in various environments, evolving technologies, yield maximization and hybrid growth methods.
The food security project and demonstration site is geared to social innovation and entrepreneurship and will work toward creating food sovereignty for the north, specifically for rural and remote communities. The sustainable food site will have the capacity to produce approximately 30,000 pounds of food annually.
"The world is changing, and the way we grow our food is inevitably going to have to change. This investment signifies Canadore's commitment to environmental sustainability and economic viability. With this technology in our backyard we are able to research best practices and train our students in this advanced field of food production," said George Burton, President and CEO at Canadore.
The off-the-grid hydroponic pods leave zero carbon footprint and do not contribute to fertilizer in waterways or soil contamination, making them not only sustainable but ideal for use in fragile areas of the province.
In contrast to traditional growing practices, growing happens 24 hours in the pod, it is virtually climate change proof with plants not being exposed to the elements, and with the climate-controlled environment, the pods have the advantage of being able to offer pest and mold-free produce.
"The pods are the first of their kind to have EHT's proprietary solar energy Building Systems integrated directly into the exterior surfaces. By utilizing Growratio's advanced lighting and control systems, we can adjust the cultivation environment on the fly, thus the pods can grow any type of fruits or vegetables as needed," said John Gamble, CEO of EHT.
The College in partnership with EHT is currently in talks with five First Nation communities who have expressed interest in the opportunity to use this technology and create a more economical way to produce and sell food.
"Canadore College is committed to the economic prosperity and sustainability of the communities that we serve. These pods can offer a year-round alternative for Northern communities to grow and purchase nutritious produce at a reasonable price. With food and shipping costs as they are, fresh food in some of these communities is unattainable due to excessive price points. This project has the potential to vastly improve the health and wellness of these remote communities," said Shawn Chorney, Vice-President Enrolment Management, Indigenous & Student Services at Canadore.
The sustainable food development site is being established to build by example. The food security program will include training for communities, harvest optimization and a strategic forum for communities to adopt new technology while being supported on their sustainable food journey. The site will be used to support regional food sustainability and community enhancement through improved health outcomes for many northern residents. Work is currently underway to establish three additional sites in northern communities as a pan-northern Ontario pilot project.
#Collaboration #College Drive #Corporate Communications #Enviro and Biotech #General
---
---