All Stories
Canadore offers financial and nutritional support to students in residence during COVID-19
Jun 25, 2020 | Cindy Males, Public Relations and Communications Specialist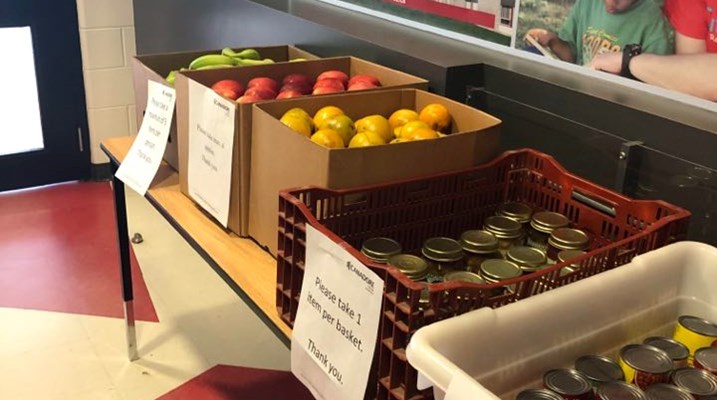 Back in March, when Canadore College campuses went into restricted access, student residences remained open as an essential service to those students who did not have another place to go. While most students had alternative accommodations and moved out, more than 100 students have been spending the pandemic lockdown in residence.
The reality that forced students to remain in residence longer than anticipated creating the need for Canadore to increase its supports.
"As our campus community adjusted to the uncertainly and challenging circumstances of COVID-19, many of our students and their families were caught off-guard and were faced with food and housing insecurity," said Shawn Chorney, Canadore Vice-President of Enrolment Management, Indigenous and Student Services.
An emergency fund was created to provide financial assistance to students in need.
"So far we have awarded 40 students $18,085 in funds," said Jeannette Miron, Registrar and Director of Strategic Enrolment Services. "We have assisted students with rent payment deferrals and interim living arrangements. We have also dispersed over $1500 in gift cards for fresh food supply."
Students who are in need can access the fund through a straightforward application process that begins by contacting our Financial Aid team at finaid@canadorecollege.ca.
"The college team, including the Canadore Foundation, the Canadore Students' Council and Student Services, knew that we had the means and opportunity to assist and so collectively we did," Chorney said.
To meet the challenge of food insecurity, Canadore has established a food bank at 15 College Drive. So far, several Food Bank Days have been held where students can pick up fresh fruit and vegetables, pasta, canned goods, sauces, and condiments.
Prepared frozen meals are also available for residents to re-heat.
"Residents have used the food bank multiple times and come down to the front desk on occasion to see if there are new items available," said Joel Ingram, Director of Residence Operations. " We believe that the residents requiring support have been helped by this additional support."
Residents requiring support outside of the Food Bank days are encouraged to contact residence management to receive additional support.
Canadore has been working with local organizations to support off-campus food needs as well. More than 3,000 pounds of fresh food has been provided to students, both on and off-campus.
"As a team, we helped hundreds of students make ends meet at a critical time and we are grateful to all members of the community who supported us in doing so," said Chorney. "The support made the difference between people having to choose between housing & food, or continuing with their studies."
---
---