All Stories
Canadore professor sets an ultramarathon record
Jul 21, 2021 | Cindy Males, Public Relations and Communications Specialist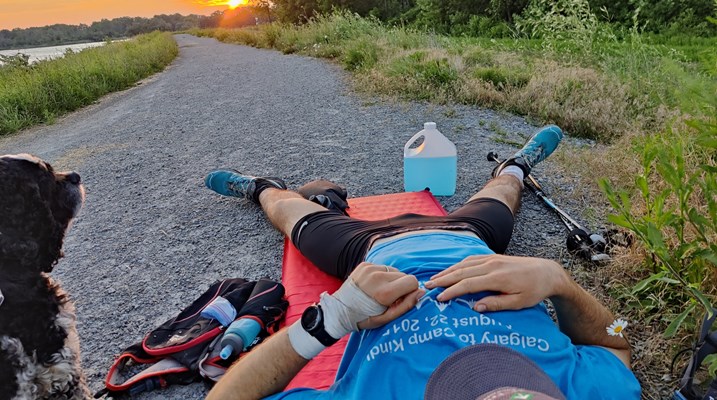 Canadore knows Kip Arlidge as a technician and faculty member in the College's Health Sciences programs. Lately, he is becoming known for something completely different – and it is impressive. Arlidge recently completed a 900-kilometre ultramarathon on the Bruce Trail in nine days, three hours and 27 minutes. He beat the previous record by about 14 hours. The distance is the equivalent of two-and-a-half marathons a day.
"I certainly found my physical and mental limits on the trip, especially with respect to sleep deprivation," said Arlidge. "Mentally, the best thing I did was surround myself with an excellent support crew that helped me stay positive, and they handled all of the logistics so that I could focus on the run."
Arlidge set out from Tobermory, at the north end of the Bruce Trail, on June 18. He arrived at the trail's southern end, in Niagara Falls, on June 27.
"I've been running competitively since 2009 and ran cross-country and track at Queen's University from 2011-2015," he said. "After that I transitioned to mostly running ultramarathons."
Anything over the traditional marathon distance of 42.3 kilometres is an ultramarathon.
"My prep for the Bruce Trail was similar to my prep for shorter, faster, ultramarathons -- seven to 10 runs a week, with a longer trail run on the weekends. The major difference with the Bruce is that I started my taper earlier and paid more attention to injury prevention focused strength training."
As for what is next, Arlidge says he is looking forward to helping someone else break his record for the Bruce Trail.
"There are many race opportunities and other trails like the Bruce to try. Because of the punishing nature of ultra-running, athletes are limited to only a handful of events per year. Pulling together a group of friends to help support for that long was also incredibly challenging and will be difficult to repeat."
"I'd like to start a cross-country running team at Canadore in the near future and am working with athletics to make that happen."
---
---