All Stories
Canadore's Community and Justice Students experience a different reality
Mar 7, 2020 | Cindy Males, Public Relations and Communications Specialist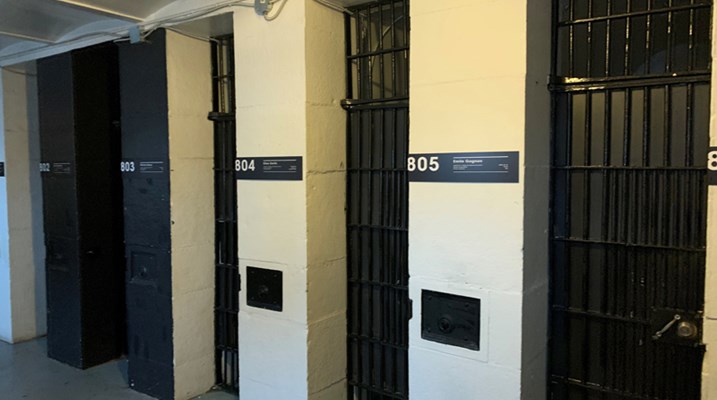 Twenty-four students from Canadore's Community and Justice Services program recently spent a night in jail. They didn't commit any crimes, instead, they wanted to go so they might better understand what some of their future clients may experience.
"Spending a night in jail was intended to provide a humanist understanding of our client group and the challenges encountered when serving time," said Claude Charland, faculty member and coordinator in the school of Community Justice and Police Studies. "Most students served their night in a dormitory setting and had the benefit of being with people they know. However, the reality in that type of correctional setting is sharing a space with people you know very little about, with a real potential for conflict, misunderstandings and violence."
Built in the 1860s and originally called the Carleton County Gaol, it is the oldest jail in Canada. The jail was closed in 1972 and the building has since been converted into an international hostel. Every cell or dormitory is identified by people who served time in the institution, along with a summary of their crime.
"Most offences would be considered mild by today's standards," said Charland. "Many were affected by mental health and addiction issues which were not understood at that time. Correctional Institutions have documented locking people up for being epileptic, believing they were possessed by the devil."
"I think it's cool to see how our industry is changing," said student Andrea Bernier. "There were some people in there because of mental illness, because that's what they did. Now I feel like things are opening up. Things are about mental illness and it's like: ok, this is what they're dealing with. It's different for each inmate."
The students agreed the experience provided them with empathy for the people they will incarcerate some day.
"It's so intimidating when you're walking up the steps because you don't know what you're expecting," said student Lindsay Belanger. "Everything was cramped and small. And in our big group, it was hard to get around. So, you can imagine when you're inmates. That was frustrating. And the noise travels easily, so people on the fourth floor could hear us on the ninth floor."
"You don't have any privacy," said Andrea Bernier. "You're all in one room and there's only one bathroom. There were 18 of us upstairs."
"I thought: is this the career I want to get into, with this kind of history. But, that inspired me because there is such an incredible difference now."
---
---