All Stories
Canadore's Virtual Pow Wow receives positive reviews
Feb 22, 2021 | Cindy Males, Public Relations and Communications Specialist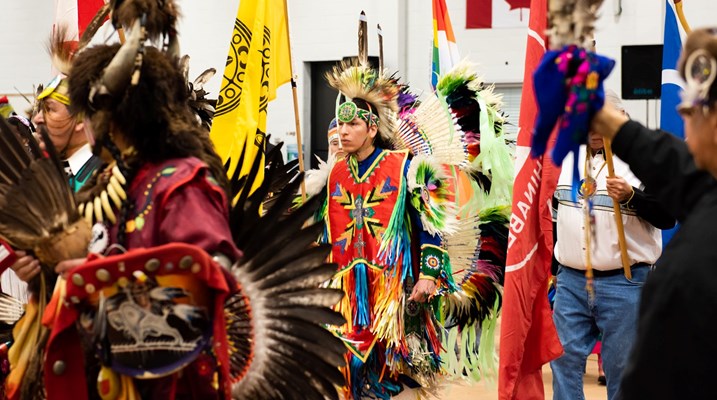 The COVID-19 pandemic almost forced the cancellation of a 31-year Canadore College tradition, the annual Pow Wow. However, Canadore's First Peoples' Centre and the Aboriginal Student Association refused to let that happen, deciding to continue the tradition as a virtual event.
"A new event is always exciting -- it's my first time experiencing a Pow Wow," said student Sarah Gagne, one of the event organizers.
Kirby Mianscum has helped to organize every Canadore Pow Wow except for one.
"We don't have a choice due to the pandemic," said Mianscum. "But I think it's a good way to keep that connection going. You know, the song and dance for Pow Wow is the thing that everyone celebrates, honouring each other, visiting with each other. A virtual Pow Wow allows us to continue to do that."
Pow Wow organizers contacted dancers and drummers to record individual performances for the virtual event, all done in separate locations, following social distancing rules. The video was then posted on the Canadore College Aboriginal Student Association's Facebook page.
"It gives us a chance to reach out to let people know that we're doing fine," said Mianscum.
Organizers were live on Facebook while the video played. The Pow Wow reached more than 1,800 people, and the organizers engaged with almost 390 people over the course of the 30-minute video. The feedback from people who watched the virtual Pow Wow was positive; that being able to see a Pow Wow, even from a distance, was rejuvenating and invigorating.
"On a positive note, nothing lasts forever. I will eventually have the opportunity to experience a Pow wow in person being surrounded by the culture, dancers, singers, and positive energy," said Gagne. "The first thing I will be doing when it becomes available to me is attending a Pow wow; my fingers are crossed that next year, this will be possible."
The organizers behind the annual Canadore Pow Wow hope so too.
#Events #First Peoples' Centre #Access and Inclusion #Indigenous Studies #Student Life
---
---