All Stories
Canadore Students adapting as the new school year gets underway
Sep 10, 2020 | Cindy Males, Public Relations and Communications Specialist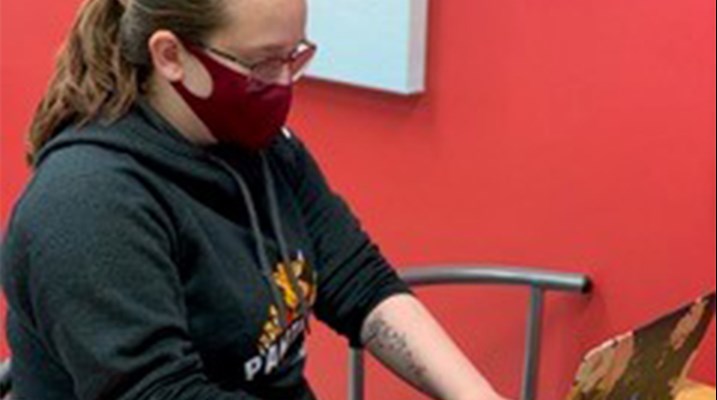 (NORTH BAY) – This year's Back-to-Class is like no other, but Canadore College students are overcoming the challenges posed by learning during the COVID-19 pandemic.
"I have not prepared any differently," said second-year Social Service Worker student, and Canadore Students' Council Vice President of Student Life, Samantha St. Pierre. "I just figured out what my classes were and found out what textbooks I needed. I luckily do not have to run around looking for where all my classes are, so I would say that is a bonus. For me it really feels like any other year, it just isn't face to face."
"Online learning is very different, as you rely on your internet connection to provide your in-class attendance," said first-year Practical Nursing student Emily Gillies. "Sometimes the format may not work. However, the professors are quick to email back and to help you with any problems. Plus, if you miss the class due to bad internet connection, you can still learn the lesson via video clip. It's a different way of learning, but the professors are still here giving the students one-on-one help that was provided in the past."
Canadore College has an extensive pandemic reopening plan in place. Every student and employee must pass an online COVID-19 self-assessment, which asks about possible symptoms and exposure, before being allowed into any campus building. Once inside facial coverings are mandatory for everyone, personal protective equipment (PPE) must be worn (depending on the program) and enhanced cleaning and physical distancing measures are in place.
"COVID scares me. However, I realize I cannot live as a hermit and must go to school for my program," said Emily Gillies. "They have spent a lot of time investing in safety protocols for students. I'm excited and cautious."
Business-Accounting student Apoena Lima arrived from Brazil in January, before the pandemic hit. He's been preparing for all of his third-term courses to be delivered online.
"I had been trying to keep busy, studying, going for walks, waking up early as if I have classes," he said. "This not a traditional environment, we are still getting used to a different presence of classmates. We are in the same room, but we are not in the same space, and I am still missing being in the same space as my classmates and professors."
"We remain committed to our students' success," said Canadore President George Burton. "All of our student support services are available to help those who need them, no matter if they're studying on campus or remotely. Our students are supporting each other too, and that is very important."
"We know that lots of post-secondary plans have been postponed or changed and this may leave our students feeling overwhelmed, frustrated, and anxious said Canadore Students' Council President Madison Irvine. "On behalf of CSC, I want to say that we hear you. We hear your concerns, we see your frustrations, and we understand the pressure of being a student even without the uncertainty of these times.
The pandemic forced Canadore Students' Council to switch gears when it comes to in-person Frosh Week events.
"This year, CSC has planned an exciting and engaging online frosh experience that we are calling Welcome Week," said Irvine. "It is full of virtual events such as a Trivia Night, a Talent Show, and a concert headlining fantastic local talent."
"Our focus is less on replicating our past frosh weeks and more so towards offering events to students that are going to be memorable for them, despite the restrictions of COVID-19. We are looking forward to meeting our new students through these virtual events and giving them a look into the dynamic and exciting experience of being a Canadore Panther."
"We are here to make your experience at Canadore a meaningful one no matter where you're studying from. We know our students are passionate, insightful, and driven to achieve their goals. No matter what these times bring, we welcome you to Canadore College with the confidence that we can get through this and come out stronger than before," said Irvine.
---
---