All Stories
Canadore Students Adding Horsepower to Lions Children's Telethon
Dec 1, 2016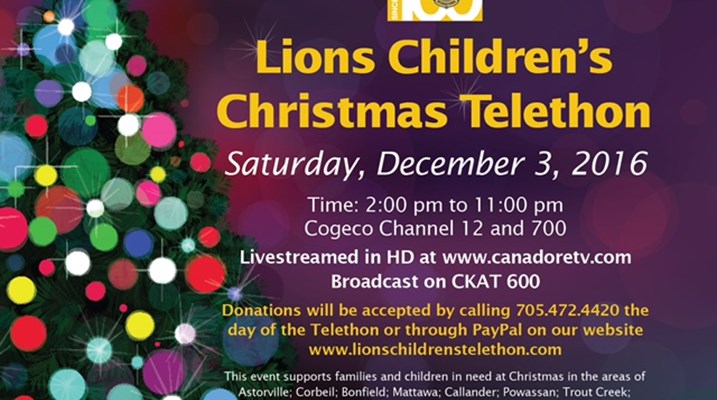 (NORTH BAY, ONT.) – Students from Canadore College's School of Media will be live broadcasting the Lions Children's Telethon this Saturday.
Working with professionals from COGECOTV and Rogers Broadcasting, students will work on all aspects of the event including video, sound, lighting, editing and on-air interviews, providing them with critical hands-on experience in a live production.
Yura Monestime, Interim Associate Dean of Media, Design and Dramatic Arts, said this is an invaluable experience for students.
"This is experiential learning at its very best," said Monestime. "This broadcast gives students a taste of what it's like on a real set and the live aspect adds complexity and pressure, giving them a real sense of what it's like in industry."
Over 50 students and Canadore employees will be volunteering their time on Saturday for this worthy cause.
This year's hosts are KFM's Dean Belanger, 101.9 THE FOX's Vicki Tyler and Mitch Belanger, and COGECOTV's Greg Estabrooks, Clarke Heipel and Matthew Sookram.
Spectators are welcome to watch close to 30 live acts at the Canadore College TV studio. The production will also be broadcast live locally on on COGECO Channel 12 and 700, CKAT 600 AM , www.lionschildrenstelethon.com, www.canadoretv.com. exclusive behind the scenes live footage will also be available at www.facebook.com/LionsTelethonNB.
Volunteers will be on hand to accept pledges towards this worthy cause.
The region's Lions have hosted an annual Christmas telethon to raise money in support of families in need from Argyle, Astorville, Bonfield, Burk's Falls Callander, Corbeil, Kearney, Mattawa, Powassan, Restoule, Sundridge and Trout Creek for over six decades.
Event: Lions Children's Telethon
Date: Saturday, December 3, 2016
Time: 2 - 11 p.m.
Locations: LIVE at C171 - TV Studio, Canadore College, College Drive Campus, 100 College Drive, North Bay, Ont.; BROADCAST on COGECO Channel 12 and 700, CKAT 600 AM and www.canadoretv.com
---
---