All Stories
Canadore Students Celebrated for Filmmaking Achievements
Jun 3, 2019 | Canadore College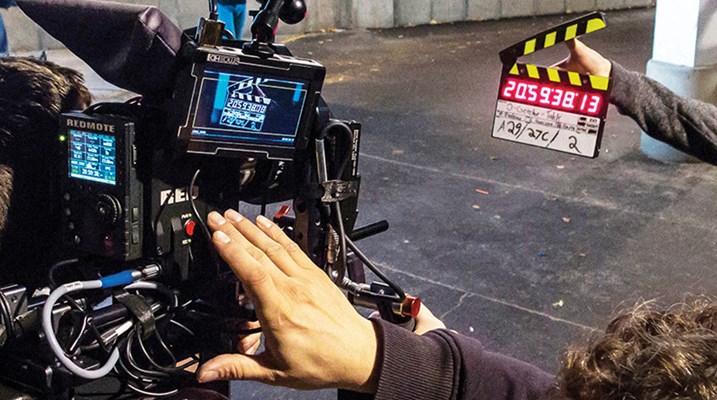 (NORTH BAY, ONT). – The Canadore College digital cinematography program was recognized by the Canadian Media Educators for outstanding achievements in media at the CME National Student Awards last week.
Conversion, is a dystopian thriller written by Austin Dudas (Scarborough, Ont.) and directed by Destiny Dionne (Sudbury, Ont.), was awarded the 'Best In Canada' in the drama/comedy long category at the CME National Student Awards Gala which was held in Canmore, Alberta. The 24-minute dramatic film was made by the entire third-year class. The project is designed to culminate throughout the 2018-19 academic year to include everything from filming to editing, to sound design and music. Support for the project included the loan of a high-end cinema camera called the Varicam 35 from Panasonic Canada. The final product was also sound mixed in 5.1 Dolby surround-sound at Canadore's state-of-the-art post production facility.
Student Connor Rueter (North Bay, Ont.) also received an honourable mention in the drama or short comedy category for his production, New Face. Both films engaged the region's best union actors who volunteered as part of a special agreement between Canadore College and ACTRA (Alliance of Canadian Cinema, Television and Radio Artists).
The Canadian Media Educators (formerly known as the Broadcast Educators Association of Canada, BEAC) is dedicated to the professional development of faculty and administrators in radio, television, broadcast journalism, photography and animation in provincially-accredited colleges and universities in Canada.
After judging 140 entries from the postsecondary sector across the country based on creativity and technical excellence, the judging panel said it wasn't easy and that they continue to be impressed and entertained by the quality of the submissions this year.
The student films can be viewed here; both films contain scenes that may be disturbing to some viewers, viewer discretion is advised.
Canadore College trains people through applied learning, leadership and innovation. It provides access to over 75 full-time quality programs and has outstanding faculty and provides success services to students from nearly 400 Canadian communities and 15 international countries. The College and its students add nearly $244 million to Nipissing Parry Sound Service Area economy. Approximately 1,000 students graduate from Canadore each year, and they join 45,000 alumni working across the globe. Canadore receives less than 50 per cent of its traditional funding from the provincial Ministry of Training, Colleges and Universities and relies on its own innovation and entrepreneurial endeavors and generous donors for the balance.
www.canadorecollege.ca
For more information, please contact: Jessica Charette at 705.475.2538 or jessica.charette@canadorecollege.ca; Carrie Richmond at 705.474.7600, ext. 5216 or carrie.richmond@canadorecollege.ca
#Collaboration #College Drive #Experiential Learning #Film #General #Media #New #Profile #Programs
---
---