All Stories
Canadore Students Dominate Aviation Competition at Provincial Competition
May 3, 2017 | Canadore College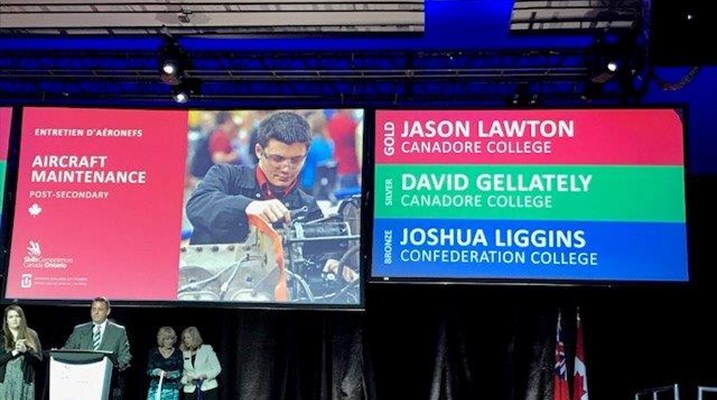 | | |
| --- | --- |
| Media Release | May 3, 2017 |
Canadore Students Dominate Aviation Competition at Provincial Competition
(TORONTO, ONT.) – Canadore College aircraft maintenance students David Gellately and Jason Lawton are returning to North Bay, Ont. with the highest awards from the Skills Ontario Competition.
During the competition's closing ceremonies this morning, Lawton was awarded gold and Gellately silver in the postsecondary aircraft maintenance category.
"Both Jason and David have put a lot of effort into their education and practical learning experience," said Brett Chadwick, professor and academic coordinator of the aircraft maintenance program. "I really have to commend these young men for their efforts at this competition, throughout their two years at Canadore and for their involvement with Royal Canadian Air Cadets. You can really see how their interest in aviation has been nurtured from a young age. And I speak for all our professors when I say that we feel like proud parents today!"
The winning Canadore students were rewarded with medals and monetary awards. Gold medalist, Lawton, will now have the opportunity to compete at the Skills Canada National Competition in Moncton, N.B. and from there, competitors could be headed to the WorldSkills Competition AbuDhabi, United Arab Emirates in October 2017.
Gellately and Lawton join Canadore aviation alumni and Skills Competition medalists Colin Cumming (2015 Bronze), Ryan Spurrell (2011 Gold) and John Bolan (2009 Silver) in their outstanding achievements.
The Skills Ontario Competition took place at the Toronto Congress Centre from May 1 – 3, 2017.
Canadore College trains people through applied learning, leadership and innovation. It provides access to over 75 full-time quality programs and has outstanding faculty and student services. The College and its students add nearly $290 million to the regions of Nipissing and Parry Sound. Approximately 1,000 students graduate from Canadore each year, and they join 43,000 alumni working across the globe.
For more information, please contact: Jessica Charette at 705.475.2538 or jessica.charette@canadorecollege.ca; Carrie Richmond at 705.474.7600, ext. 5216 or carrie.richmond@canadorecollege.ca
#Aviation and Aerospace #Events #Experiential Learning #General #New #Profile #Recruitment
---
---