All Stories
Canadore to Host 29th Annual Pow-Wow
Feb 1, 2019 | Canadore College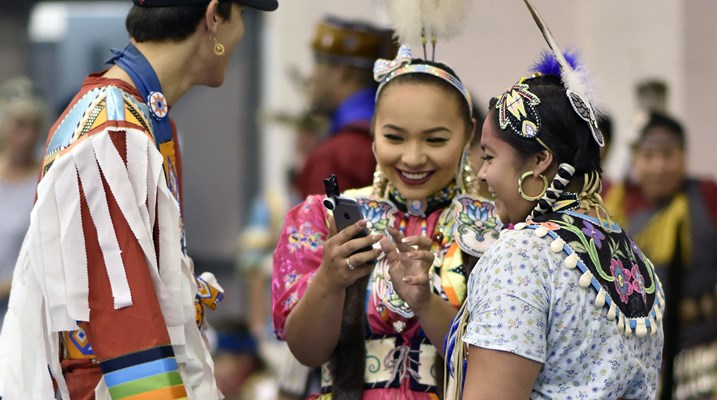 (NORTH BAY, ONT.) – This weekend, Canadore will be hosting its 29th annual pow-wow.
Organized by the college's First Peoples' Centre and the Canadore Aboriginal Student Association, the event will include opportunities for the community to learn about the importance of celebrating culture and honouring future leaders.
"It is unusual for a college to be able to say that they are hosting their 29th annual pow-wow," said Mary Wabano, director of Canadore's First Peoples' Centre. "Canadore College has played an integral role in Indigenous education, academically and culturally, for decades. We are so proud of that, and we invite people to join us at this gathering which is truly community-driven, no matter what your heritage is."
The cultural gathering will include drumming, dancing, Indigenous arts and crafts, and a traditional feast at the Indigenous gathering space within The Village, the college's wellness community focused on collaborative interprofessional education and the integration of Indigenous, Eastern and Western healing and wellness practices.
Delegates include: Chris Pheasant, emcee; host drum, the Ottawa River Singers; co-host drum, High Ridge Singers; Meegwyn Alisappi, head female; Eric Assinewai, head male; Roger Assinewai, arena director; and Elder Peter Beaucage. Everyone is welcome to attend this one-day event to learn and grow through cultural exchange.
Event: 29th Annual Pow-Wow
Date: Saturday, February 2, 2019
Time: 12 p.m. Grand Entry
Location: Gymnasium, College Drive Campus, 100 College Drive, North Bay, Ont.
Nearly 20 percent of Canadore's total student population is of Ojibway, Oji-Cree, Cree Algonquin, Mohawk, Inuit or Métis descent from Ontario, Québec and nation-wide, one of the highest representations in the provincial college system.
Canadore College trains people through applied learning, leadership and innovation. It provides access to over 75 full-time quality programs and has outstanding faculty and provides success services to students from nearly 400 Canadian communities and 15 international countries. The College and its students add nearly $244 million to Nipissing Parry Sound Service Area economy. Approximately 1,000 students graduate from Canadore each year, and they join 45,000 alumni working across the globe. Canadore receives less than 50 per cent of its traditional funding from the provincial Ministry of Training, Colleges and Universities and relies on its own innovation and entrepreneurial endeavors and generous donors for the balance.
For more information, please contact: Jessica Charette at 705.475.2538 or jessica.charette@canadorecollege.ca; Carrie Richmond at 705.474.7600, ext. 5216 or carrie.richmond@canadorecollege.ca
#Aboriginal #Alumni #Collaboration #College Drive #Events #First Peoples' Centre #General #Indigenous Studies #New #Profile #Student Life #The Village
---
---