All Stories
Canadore to Host Annual Pow-Wow, Water Teachings and Music Concert
Feb 9, 2017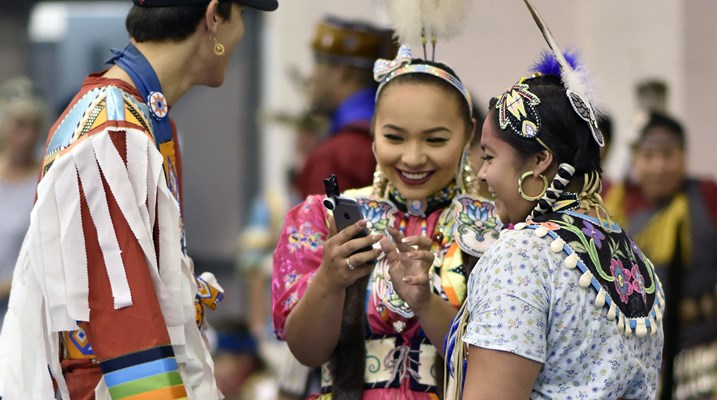 (NORTH BAY, ONT.) – This weekend, Canadore will be hosting a community teach-in event and its 27th annual pow-wow.
Organized by the College's First Peoples' Centre and the Aboriginal Student Association, the two-day event will include a community gathering on traditional water teachings with experts Dr. Brenda Restoule from Dokis First Nation and Victoria Tenasco, Kitigan Zibi First Nation and a ceremony performed by the College's Elder on Campus, Lorraine Liberty.
"Our women play a tremendously important role in our culture and everyday lives," said Mary Wabano, director of Canadore's First Peoples' Centre and associate dean of the school of Indigenous studies. "Indigenous women are recognized and honoured as being life givers, knowledge keepers, role models and leaders. We are proud to celebrate them and show them our respect and invite you to join us."
Friday evening the Aboriginal Country Music Association and Hall of Fame will be presenting an evening of country music showcase with house band Mason Dixon Line.
Following Friday's session, the College's annual pow-wow and cultural gathering -- with Elder Lorraine Liberty, Veteran Robert Eshkibok, Emcee Roger Daybutch and Arena Director Clifton Couchie -- will include drumming, dancing, Indigenous arts and crafts, and a traditional feast.

Event: Water is Life Community Teach In
Date: Friday, February 10, 2017
Time: 10:30 a.m. – 1:30 p.m.
Location: Room H106, College Drive Campus, 100 College Drive, North Bay, Ont.,
Event: An Evening of Country Showcase
Date: Friday, February 10, 2017
Time: Doors open at 6 p.m.; Show start 7 p.m.
Location: F213, College Drive Campus, 100 College Drive, North Bay, Ont.
Event: 27th Annual Pow-Wow
Date: Saturday, February 11, 2017
Time: 12 p.m. Grand Entry
Location: Gymnasium, College Drive Campus, 100 College Drive, North Bay, Ont.
Everyone is welcome to attend this one-day event to learn and grow through cultural exchange.
Nearly 20 percent of Canadore's total student population is of Ojibway, Oji-Cree, Cree Algonquin, Mohawk, Inuit or Métis decent from Ontario, Québec and nation-wide, one of the highest representations in the provincial college system.
Canadore trains people through applied learning, leadership and innovation. It provides access to over 65 full-time quality programs and has outstanding faculty and student services. The College and its students add nearly $290 million to the regions of Nipissing and Parry Sound. Approximately 1,000 students graduate from Canadore each year, and they join 43,000 alumni working across the globe.
#Indigenous #Canadore Students' Council #First Peoples' Centre
---
---