All Stories
Candidates Urged to Support the Expansion of Degree Programs at Colleges
May 23, 2018 | Canadore College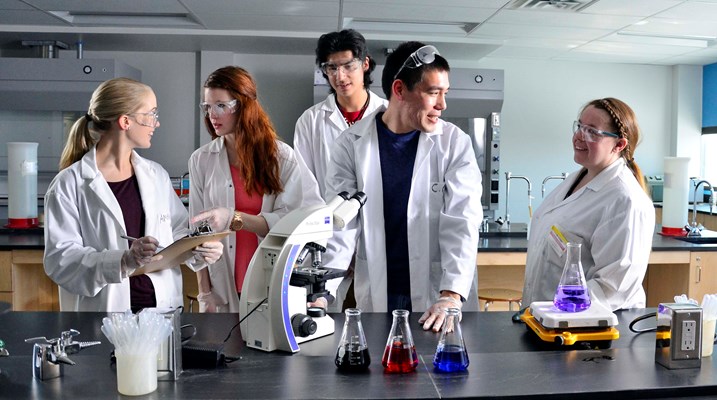 (NORTH BAY, ONT.) – Candidates in the 2018 election must commit to providing Ontario's colleges with the autonomy to meet the needs of students and employers including the development of cutting-edge programs for the new economy, including an expansion of career-specific degree programs at colleges.
"Our economy needs more graduates with the professional and technical expertise to harness meaningful careers," said George Burton, president and CEO of Canadore College. "To make this happen, colleges have to acquire greater flexibility to create programs that put us at the forefront of a rapidly changing world."
Burton and his provincial colleagues say that Ontario needs a streamlined and effective system for developing new college programs, which would include the expansion of the colleges' highly successful four-year degree programs and the development of career-specific three-year degree programs.
These reforms will be pivotal to Ontario's efforts to produce a more highly-qualified workforce as artificial intelligence and robotics continue to revolutionize the workplace rapidly.
It's estimated more than 40 per cent of the Canadian labour force will be affected by automation within the next 10 to 20 years. However, a 2015 report by Deloitte Canada found more than 85 per cent of employers aren't fully prepared to handle the impacts of technological disruption.
Public colleges have implemented new programs that respond to today's innovations including, where permitted, four-year degree programs in areas such as industrial design, digital animation and engineering. However, the provincial process for developing new programs is cumbersome and inefficient, often leading to unnecessary delays before programs are available to students.
Ontario needs to set clear provincial standards that give colleges the autonomy to create programs to meet those standards. This would include the creation of career-specific three-year degree programs and possible new credentials in areas such as apprenticeship training.
"Today's college education has to be able to align with the realities of our new economy," said Burton. "We need the flexibility to quickly and effectively design cutting-edge programs that help more people pursue rewarding careers."
Canadore College trains people through applied learning, leadership and innovation. It provides access to over 75 full-time quality programs and has outstanding faculty and success services to students from nearly 400 Canadian communities and 15 international countries. The College and its students add nearly $244 million to Nipissing Parry Sound Service Area economy. Approximately 1,000 students graduate from Canadore each year, and they join 44,000 alumni working across the globe. Canadore receives less than 50 per cent of its traditional funding from the provincial Ministry of Advanced Education and Skills Development and relies on its own innovation and entrepreneurial endeavours and generous donors for the balance.
For more information, please contact: Jessica Charette at 705.475.2538 or jessica.charette@canadorecollege.ca; Carrie Richmond at 705.474.7600, ext. 5216 or carrie.richmond@canadorecollege.ca
#Corporate Communications #Employer Services #Experiential Learning #General #New #Office of the President #Programs #Recruitment
---
---