All Stories
Congratulations Canadore Graduates! (WPS 2018)
May 29, 2018 | Canadore College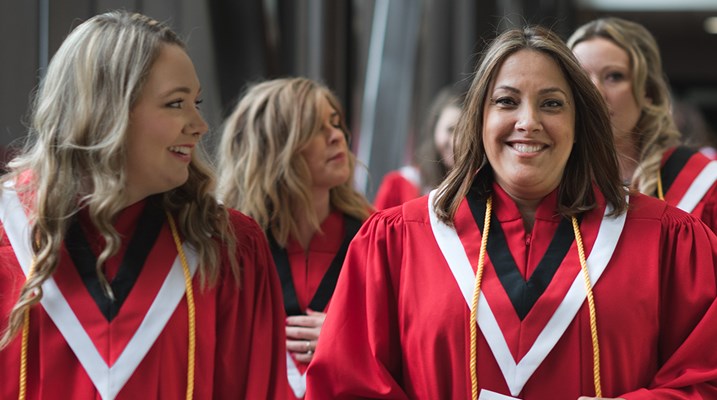 (PARRY SOUND, ONT.) -- Canadore is hosting Convocation Ceremonies for its West Parry Sound Campus this Thursday.
Guest speaker Valerie Stanley, lead of the Senior Safe Keeping Program at the West Parry Sound District Community Support Services, will be addressing business and personal support worker graduates and their families.
Stanley moved from North Bay to Parry Sound in 1988, where she has been an integral and active member of the community. Her broad expertise in mental health has helped countless seniors within the region. She is also a regular columnist in the Parry Sound North Star, and has led extraordinary volunteer efforts such as the annual 'Be a Santa to a Senior' program. Stanley holds many specialty certificates related to therapies, a bachelor degree in social work, a master's in social work policy and administration and has completed doctoral studies in adult education and community development.
Date: Thursday, May 31, 2018
Time: 11 a.m.
Location: West Parry Sound Campus, 1 College Drive, Parry Sound, Ont.
Canadore College trains people through applied learning, leadership and innovation. It provides access to over 75 full-time quality programs and has outstanding faculty and success services to students from nearly 400 Canadian communities and 15 international countries. The College and its students add nearly $244 million to Nipissing Parry Sound Service Area economy. Approximately 1,000 students graduate from Canadore each year, and they join 44,000 alumni working across the globe. Canadore receives less than 50 per cent of its traditional funding from the provincial Ministry of Advanced Education and Skills Development and relies on its own innovation and entrepreneurial endeavours and generous donors for the balance.
For more information, please contact: Jessica Charette at 705.475.2538 or jessica.charette@canadorecollege.ca; Carrie Richmond at 705.474.7600, ext. 5216 or carrie.richmond@canadorecollege.ca
#Board of Governors #Business #Credit Transfer Pathways #Employer Services #Events #General #Health, Human, Wellness #New #Office of the President #Parry Sound #Profile #Student Life
---
---