All Stories
Creative Event to Showcase Student Talent
Mar 29, 2017 | Canadore College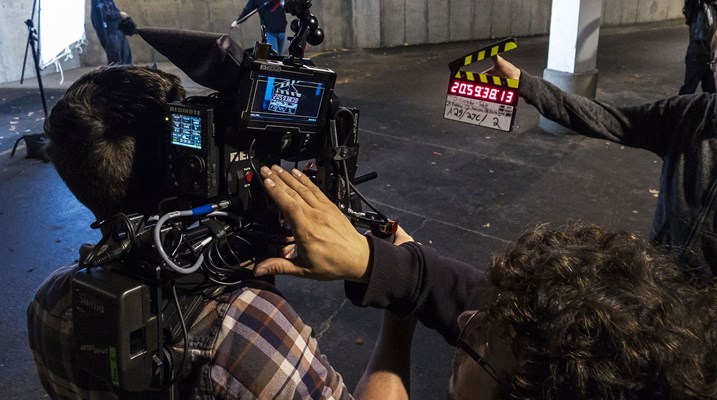 (NORTH BAY, ONT.) – Students from Canadore College's media programs will be displaying their creative collections at the second annual School of Media, Design and Dramatic Arts Showcase tomorrow.
In line with this year's theme Bright Ideas, over 250 students from the College's Advertising and Marketing, Digital Cinematography, Graphic Design, Television and Video Production, and Acting for Stage and Screen programs will be showcasing their accomplishments at the Galaxy Cinemas North Bay.
Students will be showcasing their creative portfolios with artwork, concepts, entertaining demonstrations and performances, and screenings of videos and films.
"This academic cycle alone, over 130 short films were completed by digital cinematography students and our television and video production students generated close to 250 corporate videos, documentaries, PSAs and studio productions," said Yura Monestime, associate dean of the School of Media, Design and Dramatics Arts. "The quality of our media programs and students' professionalism has made a name for itself in the industry. In fact, over the next three months, three major productions will be filming on campus, which is a testament to the quality of education and level of student at Canadore."
Admission is free, however patrons are encouraged to register for tickets due to limited space.
Event: School of Media, Design and Dramatic Arts Showcase
Date: Thursday, March 30
Time: 4 – 9:30 p.m.*
Location: Galaxy Cinemas North Bay, 300 Lakeshore Drive, North Bay, Ont.
Everyone is welcome to attend.
* 4 - 6 p.m. - Designer portfolios and displays
6 - 6:30 p.m. - Acting for Stage and Screen presentation
6:30 - 9:30 p.m. - Video Production & Digital Cinematography short films
Canadore trains people through applied learning, leadership and innovation. It provides access to over 65 full-time quality programs and has outstanding faculty and student services. The College and its students add nearly $290 million to the regions of Nipissing and Parry Sound. Approximately 1,000 students graduate from Canadore each year, and they join 43,000 alumni working across the globe.
#Canadore Students' Council #Events #Experiential Learning #Media
---
---