All Stories
Entrepreneurial Canadore Students Vying for $15K Prize
Sep 8, 2017 | Canadore College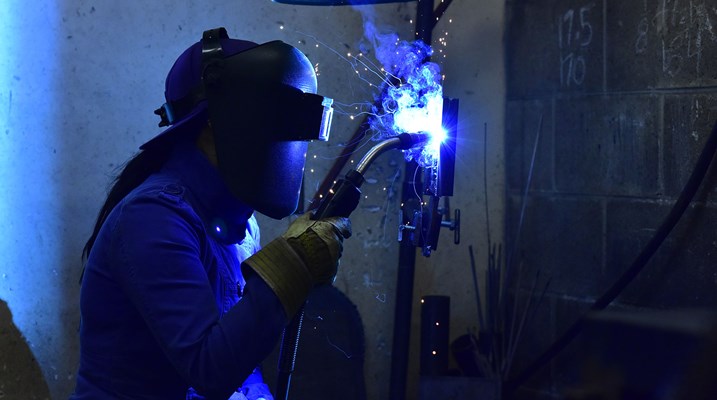 (NORTH BAY, ONT.) – Two of Canadore College's student entrepreneurs are in the running for a $15,000 prize to actualize their unique innovations.
Graduating welder-fitter student Branden Robert Liedtke from Palmer Rapids, Ont., and first-year welder-fitter student James Rocks from King, Ont. are among the finalists for the William G. Davis Fund contest for their proposals.
In the first round of submissions, Liedtke entered the 'Universal Multiple Deck Trailer,' a trailer design gives the user the options and benefits of owning multiple trailers by utilizing only one frame. Rocks proposed 'The Shop Broom,' a shop broom with re-engineered bristles to eliminate irritating uncaptured debris.
"It is incredible to see our students have the confidence to harness their creative thinking and take action on their ideas," said Ryan Drouin, Manager of Employer Services at Canadore College. "We had more than 50 employers on-site at our trades campus last year, doing everything from delivering workshops, providing mentorship support and recruiting to vacancies. The strong linkages between programs and industry are encouraging new levels entrepreneurialism in our students early-on."
At a corporate level, Canadore College is also known provincially for its innovation in relation to applied research, its unique Innovation Centre for Advanced Manufacturing and Production (ICAMP), and the Nipissing Poverty Reduction through Education program (NPREP), a project that aims to reduce dependency on social services by leveraging individuals' potential through the application of intensive and customized education plans.
The contest's first-place winner will receive $15,000 to help fund the project and the second-place entry will receive $5,000. If Liedtke and Rocks prove to be the successful proponents, Canadore's e-Hub will support the students in bringing their concepts to reality.
"Branden and James made it through the first round of judging scrutiny and voting," said Drouin. "Our community can help them get the funds to bring their ideas to life through popular vote. And we have the advantage of being in a community that supports its own. We are proud of one another and are genuinely interested in helping each other succeed."
Canadore was the only college of the province's 24 publicly-assisted colleges to have multiple finalists in the William G. Davis Fund contest's top ten.
Voting is now open until November 5 and you can cast your vote here.
Canadore College trains people through applied learning, leadership and innovation. It provides access to over 75 full-time quality programs and has outstanding faculty and success services to students from nearly 400 Canadian communities and 15 international countries. The College and its students add nearly $244 million to Nipissing Parry Sound Service Area economy. Approximately 1,000 students graduate from Canadore each year, and they join 44,000 alumni working across the globe. Canadore receives less than 50 per cent of its traditional funding from the provincial Ministry of Advanced Education and Skills Development and relies on its own innovation and entrepreneurial endeavours and generous donors for the balance.
For more information, please contact: Jessica Charette at 705.475.2538 or jessica.charette@canadorecollege.ca; Carrie Richmond at 705.474.7600, ext. 5216 or carrie.richmond@canadorecollege.ca
---
---