All Stories
Environmental Technology students at Canadore College receive a deeper appreciation of the forest
Apr 13, 2021 | Cindy Males, Public Relations and Communications Specialist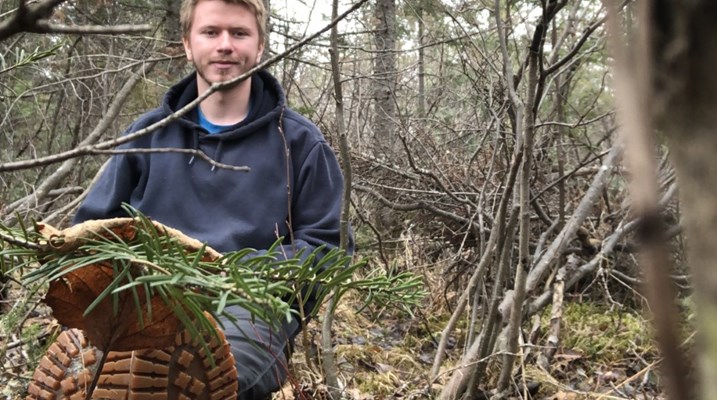 Students in the Environmental Technology program at Canadore College learn more than sampling, analyzing and categorizing the forest around them. By participating in sessions of forest bathing, they also gain a deeper and more meaningful connection with nature and themselves. When led by a certified guide, a forest therapy walk is more than a hike or an interpretive walk; it is an opportunity to connect with nature, using all five senses, in a way that you may not have experienced before.
"Integrating forest bathing into one course, in the third year of the program, provides students with the opportunity to de-stress and also detox from the digitally-connected world we live in," said program professor, Samantha Hornell, who has completed an intensive blended learning and mentoring Forest Therapy Guide Certification Program through the Association of Nature and Forest Therapy.
"Providing an opportunity to develop a deeper connection with nature and a better overall sense of well-being is certainly a little something we could all benefit from right now," said Hornell.
"I spend a significant amount of time in nature so when I heard of this course I honestly didn't expect much to change," said student Ben Chorney. "However, my third year was much heavier than the two prior years since it focused on more theory. The forest bathing sessions taught me that, although I spend lots of time in the forest, I've never really spent any time enjoying it and its benefits. It was a complete eye opener."
"I started doing all of my homework outside and I instantly noticed that I felt much more focused than I had previously. I also started going for walks on my own, and sometimes with friends. Some of the benefits I was able to take home were a more relaxed and clear state of mind. I felt as though I could think more openly about many things. And, I was able to find some peace with the things happening in my life," said Chorney.
The practice of shinrin-yoku (forest bathing) was developed in Japan in the 1980s, during the digital revolution, in response to increased levels of stress, anxiety and depression exhibited by the population. Studies into the physical and mental benefits of spending just two hours a week immersed in the forest showed health improvements including lower blood pressure, a decrease in the level of stress, anxiety and depression, and an overall improvement in the immune system. There are currently 62 designated shinrin-yoku sites in Japan that attract five million visitors each year.
"We may well be the first post-secondary institution in Ontario, possibly even in Canada, to incorporate forest bathing into the curriculum," said Hornell. "But, given that the Education Centre is located on 700 acres of forest and has over 12 kilometres of trails that wind up and down the escarpment, adopting the practice of forest bathing was a quintessential fit!"
"I definitely think these experiences will make me a better environmental technologist," Many people care about the environment because it gives us access to resources which can be exploited for money. Some people also care about it because it not only provides habitat for many species but also fresh air," said Chorney. "One thing that is often overlooked is the health benefits of our forests; it is a type of medicine. Being an environmental technologist would be impossible if you didn't care about the environment and this course gave me so many more reasons to do that."
#College Drive #Enviro and Biotech #Experiential Learning #Student Life #sustainability
---
---