All Stories
Evening of Applause 2018 - Students Who Make a Difference
Mar 23, 2018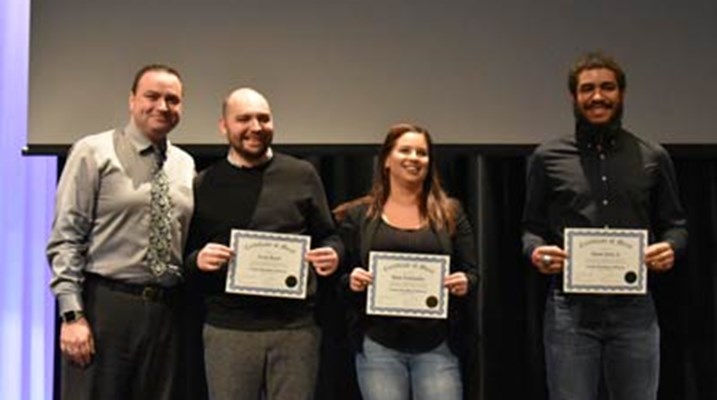 The Annual Evening of Applause for 2018 took place this week and three outstanding Canadore College students took the stage:
Robin Chokomolin, Indigenous Wellness and Addictions Prevention student
Robin Chokomolin has been nominated for a "Student Who Makes a Difference" because of her passion for educating our community about the Indigenous culture. Robin will be graduating from the Indigenous Wellness and Addictions program this Spring.
Robin has taken her Indigenous background and skill set to educate our youth. She was the recipient of the National Centre for Truth and Reconciliation "Imagine a Canada" award, a national art and writing initiative that encouraged youth across the country to share their vision of Canada through the lens of Reconciliation.
Robin was a speaker at Indigenous youth events that bring historical and cultural awareness to Northern communities, assisted with Canadore's National Aboriginal Day activities, Pow Wows and Medicine Bag teachings. Her passion for our Indigenous community is invaluable to our staff and students at Canadore College.
Robin is currently Canadore Students' Council president. Along with running successful student events, Robin ensures our students are supported through winter coat drives, and the Christmas toy drive where he ensured every child received a book with their toy.
Robin is a member of Canadore's WE Leadership program, where her group is focusing on mental health, addictions and homelessness awareness within our community. Her group co-hosted a successful event called Mindshift with Uniited Way on March 9.
Robin's drive and passion has made a positive difference within our community!
Shawn Jones Jr., Aviation Fundamentals Student
Shawn Jones Jr. is currently enrolled in his second program at Canadore College. Shawn graduated from Aircraft Structural Repair and will be graduating this year from Aviation Fundamentals. Shawn has been highly involved within the College Community through Canadore Students' Council, Board of Governors as a Student Representative, Frosh Leader and an Aviation Representative for Panther Athletic Council.
Some examples of Shawn's involvement include organizing an annual ice-fishing tournament for the Aviation Campus students, assisting with numerous student events including Black History month, Pride week, Frosh week, Orange Shirt Day and Pink Shirt Day. Shawn also assists with our Canadore varsity games and the athletic training for the Air Cadet National Camp.
Shawn's latest involvement is with Canadore's WE Leadership program, where he is continually developing his leadership skills and making positive change. His group's focus is promoting inclusion and awareness for the LGBTQ community.
Shawn is well known at all campuses due to his enthusiasm and his willingness to help. You can always count on Shawn to be respectful, punctual, and polite. Shawn treats everyone with the utmost respect and we are proud to have you part of our Canadore community.


Trevor Beard, Advertising and Marketing Communications Student
Trevor Beard joined Canadore College's Advertising and Marketing Communications program as a mature student with 10 years' work experience, a flawless work ethic and a desire to expand his horizons.
Trevor is not one to shy away from a challenge. In the first weeks of studying market research, he expressed a decided disinterest in the field, and yet when a new summer position in academic research for the Vice President Academic's office was posted, Trevor decided to take on the challenge. He continues to hold this position part-time while he completes his studies.
This same courageous spirit underscores Trevor's extra-curricular efforts. He was selected for WE Canadore leadership training, including training through EGALE, the Canadian Human Rights Trust whose vision is to support "a Canada, and ultimately a world, without homophobia, biphobia, transphobia and all other forms of oppression so that every person can achieve their full potential, free from hatred and bias" (https://egale.ca/). Trevor's goal is to develop an LGBTQ+ awareness program for Canadore College and the community.
Working with Canadore's Office Of Inclusion & Diversity, Trevor created inclusive activities on and off campus for Canadore Pride Week, including a tie-dye t-shirt event at residence, and volunteer work at the Pride basketball game.
Trevor's diplomacy, intelligence, sensitivity, and courage in supporting the LGBTQ+ community enrich the learning environment for his peers and teachers, who are a diverse group of domestic and international students of varied ages, experience, beliefs and abilities.
#Canadore Students' Council #Indigenous Studies #Student Life #Student Success Services
---
---