All Stories
Event to Give Soon-to-Be Graduates with Tools for Employment
Jun 11, 2018 | Canadore College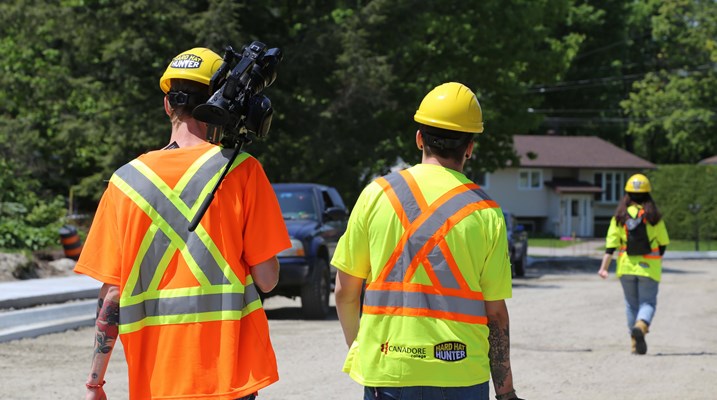 (NORTH BAY, ONT.) – This Thursday, the Canadore Students' Council and Hard Hat Hunter will be teaming up to host the Tools for Schools Work Boot Walkathon to raise funds for local trades and technology graduates to purchase tools required in their field.
Vice-president of Hard Hat Hunter, Paul Robillard, approached the college with the idea to help alleviate the burden felt by so many graduates, who are expected to bring their own tools to work in the sector.
"We love, love, love to employ Canadore graduates," said Robillard. "They come to the job-site ready, willing and able to be productive from the very first day. We have the utmost confidence in the programs and this is our way of helping to keep amazing talent working in the region."
The walkathon fundraiser will consist of a variety of fun, industry-based activities, a barbeque and professional networking. High school students registered in a dual credit program also have the chance to win a tuition credit towards a full-time program at Canadore College.
Event: Tools for Schools Work Boot Walkathon
Date: Thursday, June 14, 2018
Time: 5:30 p.m. for registration & 6 p.m. walkathon
Location: Canadore College Commerce Court Campus, 60 Commerce Crescent, North Bay, Ont.
Hard Hat Hunter is a complimentary online platform specifically geared to individuals working within the trades sector, from labourers to engineers, to mine equipment operators and masons. The medium allows individuals to highlight education, skillsets, accomplishments and experience to prospective employers and contractors, connect industry professionals to one another as well as access industry-related news in a trades-centric community. The platform was launched in 2016 and has since grown to be an international medium with users from 100+ countries with 1,285 visitors a day, seven connections made every minute and an impressive 1.6 million connections worldwide.
More than 100 Canadore students have created a profile on the platform and Hard Hat Hunter currently employs five Canadore alumni and also hires the college's students while they study.
The event's goal is to raise more than $5,000 to distribute the grants to graduates at their convocation ceremony on June 28. Anyone wishing to make a donation can contact Adele St-Pierre at adele@hardhathunter.com.
Canadore trains people through applied learning, leadership and innovation. It provides access to over 65 full-time quality programs and has outstanding faculty and student services. The College and its students add nearly $290 million to the regions of Nipissing and Parry Sound. Approximately 1,000 students graduate from Canadore each year, and they join 45,000 alumni working across the globe.
For more information, please contact: Jessica Charette at 705.475.2538 or jessica.charette@canadorecollege.ca; Carrie Richmond at 705.474.7600, ext. 5216 or carrie.richmond@canadorecollege.ca
#Canadore Students' Council #Collaboration #Commerce #Employer Services #Events #Experiential Learning #General #New #Programs #Recruitment #Trades and Tech
---
---