All Stories
Every Day is Entrepreneurs' Day at Canadore College
Nov 9, 2016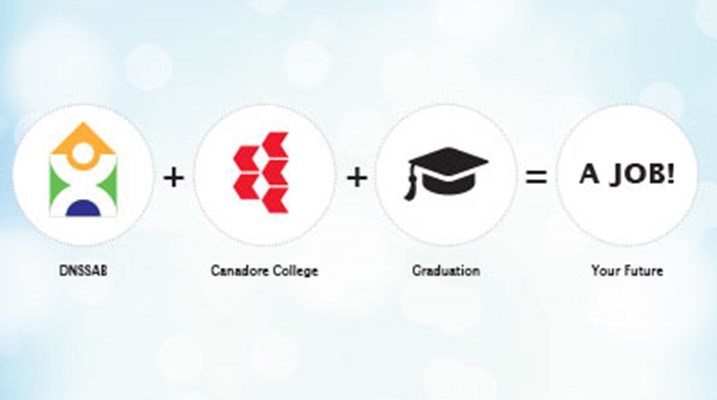 (NORTH BAY, ONT.) – November 15 might be the official Entrepreneurs' Day according to the calendar, but Canadore College celebrates innovative thinking and spirit year round.
At the North Bay and District Chamber of Commerce (NBDCC) Business Week last month, Canadore College stood out as having ground-breaking personnel, ideas, initiatives and collaborations.
The Nipissing Poverty Reduction through Education program, a project delivered in a partnership between Canadore and the Nipissing District Social Services Administration Board (DNSSAB) combines smart social policy with community training. The objective is to leverage potential through the application of intensive and customized education plans; thus reducing the cycle of poverty, mitigate skilled-trades gaps, transition people from dependency t independence and redefine what is possible relating to personal transformation of clients.
Canadore president, George Burton, was the recipient of the rarely-issued Chamber President's Award. At the prerogative of the NBDCC president, the accolade can be given to a person, company or organization in order to recognize extraordinary circumstances or accomplishments otherwise unacknowledged. Chamber president, Jake Lacourse, during his second and final term as President, was heartfelt and pleased to be able to present this award to Burton, someone he believes to be somewhat of an unsung hero as doing great things with the college's campuses, but also for the community as a whole through his volunteerism, leadership and regional pride.

Canadore trains people through applied learning, leadership and innovation. It provides access to over 65 full-time quality programs and has outstanding faculty and student services. The College and its students add nearly $290 million to the regions of Nipissing and Parry Sound. Approximately 1,000 students graduate from Canadore each year, and they join 43,000 alumni working across the globe.
---
---