All Stories
Government of Canada invests nearly $3 million in Canadore to support innovation, cyber-security and seniors in North Bay
Aug 16, 2022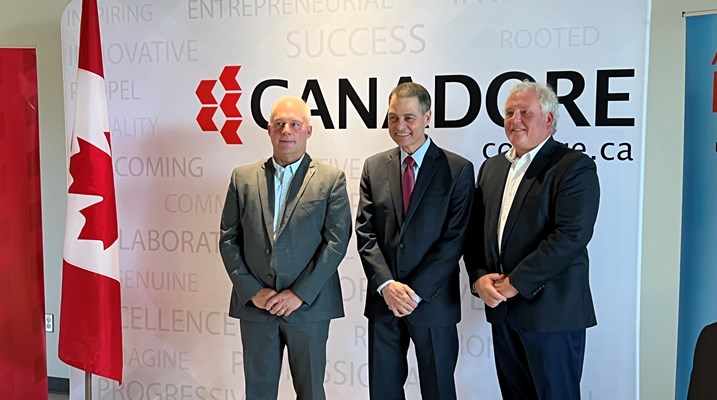 Federal funding helps Canadore College expand its programing to support students, businesses, municipalities and Indigenous communities, creating more than 95 jobs
August 16, 2022 – North Bay, ON – Federal Economic Development Agency for Northern Ontario – FedNor
A key part of Canada's economic recovery is supporting businesses as they rebuild from the COVID-19 pandemic. To do so, businesses and entrepreneurs need a strong foundation, built on innovation, inclusivity and clean growth to create the workforce of the future.
Today, the Honourable Anthony Rota, Member of Parliament for Nipissing–Timiskaming, announced a Government of Canada investment of $2,875,920 through FedNor and Employment and Social Development Canada (ESDC) to support four initiatives at Canadore College. The announcement was made on behalf of the Honourable Patty Hajdu, Minister of Indigenous Services and Minister responsible for FedNor, and the Honourable Kamal Khera, Minister of Seniors.
Of the total, Canadore College will receive FedNor funding of $1.1 million to establish a Concept Development Lab (CDL) at its Innovation Centre for Advanced Manufacturing and Prototyping (ICAMP) facility. This targeted investment will enhance the regional innovation ecosystem by supporting businesses and start-ups throughout the commercialization process including scale-up and product development. Over the next three years, the CDL will complete technology audits and help businesses develop and commercialize new or modified products, processes, services or technologies. This project is expected to create 44 jobs and maintain 60 more.
As part of the announcement, Canadore College will also receive FedNor funding of $750,000 to establish an Indigenous Clean Water Learning Lodge. Specifically, the investment will be used to create a comprehensive platform of technologies, services and educational programs tailored to fit First Nations needs and values, while addressing the challenges of delivering reliable and sustainable clean drinking water to remote Indigenous communities. Once fully operational, the Lodge will feature a fully operational water treatment facility and demonstration lab to showcase innovative water treatment technologies and services. This project is expected to create 25 jobs.
The announcement also includes FedNor funding of $1,000,920 to help ThinkOn establish a Digital Public Safety Centre at Canadore College. As Canada's first and only exclusive provider of storage, computer and networking resources, ThinkOn's North Bay facility will feature a Secret Cleared Security Operations Centre (SOC) and Digital Evidence Management (DEM) Archive. The SOC will be a highly secure facility that identifies and resolves all security events and incidents. The archive will provide secure hosting of vendor neutral digital evidence content management and archiving evidence for public safety agencies and groups in Ontario and Canada. This targeted investment will also allow ThinkOn to host a major cyber-security event to showcase North Bay as a prime location for digital technology. This priority project is expected to create 28 full-time jobs over the next two years.
Finally, ESDC through its New Horizons for Seniors Program is providing $25,000 for a community-based project to help Canadore College host information sessions on financial literacy and promote the awareness of elder abuse among seniors.
Quotes
"Canadore College and ThinkON are doing great things in Northern Ontario. Today, FedNor is announcing investments totaling $2.93 million so that Canadore College can establish a Concept Development Lab and an Indigenous Clean Water Learning Lodge, and for ThinkON to establish a Digital Public Safety Centre. While all very different fields, this shows the breadth of expertise Canadore and ThinkON bring to our region with great opportunities for students, businesses, municipalities and Indigenous communities."
The Honourable Patty Hajdu, Minister of Indigenous Services and Minister responsible for FedNor
"As Canada's Minister of Seniors, I am committed to ensuring seniors are engaged in their communities and staying active. By supporting Canadore College, we are providing seniors with opportunities to learn about financial literacy and spread awareness of elder abuse. We are empowering them and contributing to their overall wellbeing. Together, we can give seniors the recognition, respect and admiration they deserve."
The Honourable Kamal Khera, Minister of Seniors
"Today's announcement will help unleash the economic potential of Northern Ontario's innovation ecosystem, provide vital support seniors and pave the way to providing a sustainable source of clean drinking water to rural and remote First Nations. These projects with Canadore College are great examples of how we are helping to maximize opportunities for social and business growth, while supporting jobs a strong economy."
Anthony Rota, Member of Parliament for Nipissing–Timiskaming
"Canadore College has been and will continue to be the catalyst for change in many areas, and we take our responsibility as a social and economic leader very seriously. The projects being announced today will ensure the College continues to address critical social issues, while at the same time producing the skilled workers necessary to fill existing shortages and increase productivity. We thank the Government of Canada for its continued support, and the financial commitments towards these endeavours."
George Burton, President and CEO, Canadore College
"We were purposeful in selecting North Bay for the establishment of our Global Command Centre," says Craig McLellan, Founder and CEO of ThinkOn. "North Bay is a welcoming and supportive community. It offers a superior quality of life and excellent infrastructure on which to grow our business. In collaboration with Canadore College, we plan to grow a pool of local talent through a combination of excellent education and real-world work experience. As a Canadian company, passionate about developing homegrown cyber-security talent, we look forward to forging educational partnerships with Canadore and The First Peoples' Centre."
Craig McLellan, President & CEO, ThinkOn
Quick Facts
Canadore College provides programs in Aviation, Business, Communication Arts, Health Sciences, Hospitality and Tourism, Human Services, Law and Justice, Recreation and Leisure Services, and Skilled Trades. It also offers a wide variety of educational opportunities in its Preparatory and Continuing Education programs, and services approximately 400 First Nation students with its Aboriginal Learning Unit and extensive network of aboriginal educational partners.
To date through ICAMP, Canadore College has undertaken in excess of 700 projects with over 300 individual companies, ranging from short-term technical assistance to multi-year complex applied research projects. These projects have helped to create or retain over 300 jobs in the region.
The Jobs and Growth Fund (JGF) is a $700-million fund delivered by the regional development agencies (RDAs) to help businesses and the organizations who support them to future-proof, build resiliency and prepare for growth by transitioning to a green economy, foster an inclusive recovery, enhance competitiveness and create jobs. Of this support, $70 million has been dedicated to businesses and organizations created after January 2020. FedNor has delivered more than $15.5 million through the JGF across Northern Ontario to date.
ThinkOn delivers critical data asset protection and helps companies optimize their application infrastructure costs by providing hybrid infrastructure solutions, data archiving solutions, data protection solutions, data analytics and disaster recovery solutions. Its team of developers, engineers and support technicians boast more than 30 years of experience in building innovative cloud services.
The New Horizons for Seniors Program (NHSP) is a federal grants and contributions program whose goal is to support projects that help seniors stay active and engaged.
Since 2004, the NHSP has funded more than 33,500 projects in hundreds of communities across Canada, with a total Government of Canada investment of more than $720 million.
The funding helps support activities that engage seniors in their communities and address one or more of the program's five objectives: volunteering, mentoring, expanding awareness of elder abuse, supporting social participation and providing capital assistance.
Associated Links
– 30 –
Contacts
Alison Murphy, Press Secretary
Office of the Minister of Indigenous Services and Minister responsible for FedNor
Alison.Murphy@sac-isc.gc.ca
Federal Economic Development Agency for Northern Ontario
Media Relations
#First Peoples' Centre #ICAMP #Indigenous Studies #The Village #sustainability
---
---