All Stories
Heat to Kick Up in Canadore College Kitchen Tomorrow
Feb 28, 2018 | Canadore College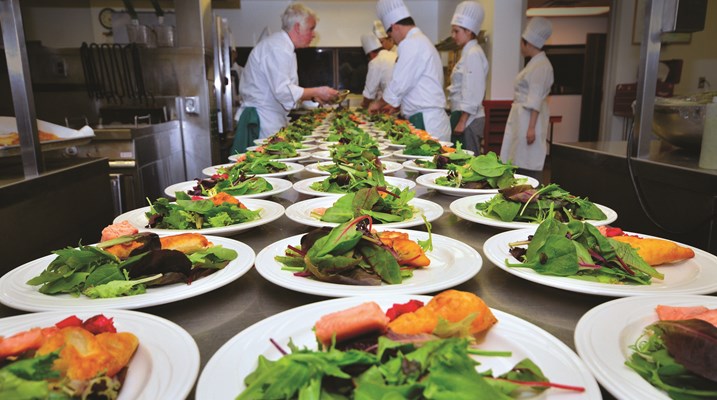 (NORTH BAY, ONT.) -- High school students from across the province will be competing for the title of Canadore College's Next Top Chef this Thursday.
The competition will see 8 teams of students from Almaguin Highlands, Kemptville, North Bay, Parry Sound rival for the victory.
They are tasked with creating the best culinary presentation of a three course meal: minestrone soup, Supreme of Chicken Chasseur with Chateau Potatoes, glazed carrots and steamed broccoli, and an individual fruit tart with raspberry coulis.
"This year's menu is definitely ambitious, but as always, I know that we will see surprising variations and impressive results from these aspiring chefs," said Canadore chef and school of culinary arts professor Derek Lawday.
Menus will be graded by a panel of judged based on stringent criteria, including hygiene, time and product utilization, preparation, presentation and taste.
First prize winners will receive their first semester tuition to Canadore College's two-year culinary management diploma program.
Date: Thursday, March 1, 2018
Time: 9 a.m. – 2:30 p.m.; judging begins at 1:15 p.m.
Location: 100 Elements Dining Room (D113), College Drive Campus, 100 College Drive, North Bay, Ont.
Canadore College trains people through applied learning, leadership and innovation. It provides access to over 75 full-time quality programs and has outstanding faculty and success services to students from nearly 400 Canadian communities and 15 international countries. The College and its students add nearly $244 million to Nipissing Parry Sound Service Area economy. Approximately 1,000 students graduate from Canadore each year, and they join 44,000 alumni working across the globe. Canadore receives less than 50 per cent of its traditional funding from the provincial Ministry of Advanced Education and Skills Development and relies on its own innovation and entrepreneurial endeavours and generous donors for the balance.
For more information, please contact: Jessica Charette at 705.475.2538 or jessica.charette@canadorecollege.ca; Carrie Richmond at 705.474.7600, ext. 5216 or carrie.richmond@canadorecollege.ca
#Admissions #Collaboration #College Drive #Culinary #Events #Experiential Learning #General #Programs #Recruitment
---
---