All Stories
ICAMP at Canadore College thanks Northern Ontario Business Awards for special recognition
Dec 8, 2021 | Cindy Males, Public Relations and Communications Specialist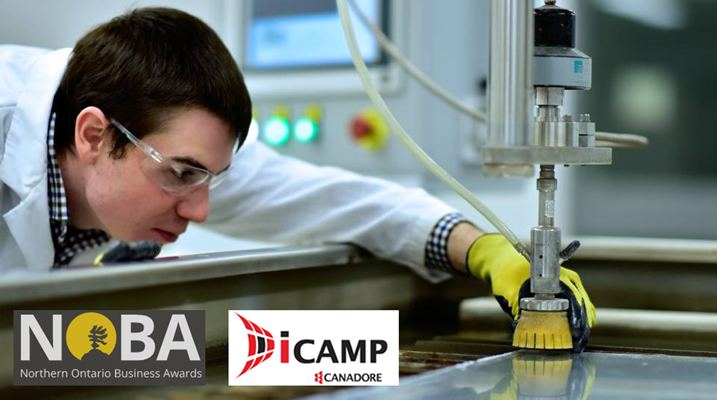 The Innovation Centre for Advanced Manufacturing and Prototyping (ICAMP) at Canadore College has been recognized by Northern Ontario Business as its Entrepreneurial Community for 2021.
"We are grateful for this very special recognition from Northern Ontario Business," said Canadore College President and CEO George Burton. "ICAMP has a proven record of accomplishment with groundbreaking applied research, specifically designed to meet the needs of industry, while contributing to the economy of the region by creating or retaining hundreds of jobs in the North. This award recognizes the vision of ICAMP, the power of partnerships and the reality of what can be accomplished when people work together."
The Entrepreneurial Community of the Year award recognizes non-profit or charitable groups, government agencies and institutions that collaborate by sharing human and/or capital resources to create conditions which affect economic growth or development in Northern Ontario.
ICAMP, located at Canadore's Commerce Court campus in North Bay, assists entrepreneurs to take their ideas from concept to reality by providing access to a range of highly specialized equipment including precision 3D scanners, robotics, microscopy, design and simulation software, and additive manufacturing. The equipment and expertise at ICAMP has helped complete more than 800 projects, assist more than 400 companies, and create or retain 270 jobs in the North. ICAMP clients are from 13 different industries -- aerospace, mining, mineral exploration, forestry, transportation, consumer goods, recreational vehicles, agriculture, environment products, medical, digital media, sporting goods, personal protection equipment, and information technology.
---
---