All Stories
Kitchen Showdown at Canadore's Next Top Chef
Apr 25, 2017 | Canadore College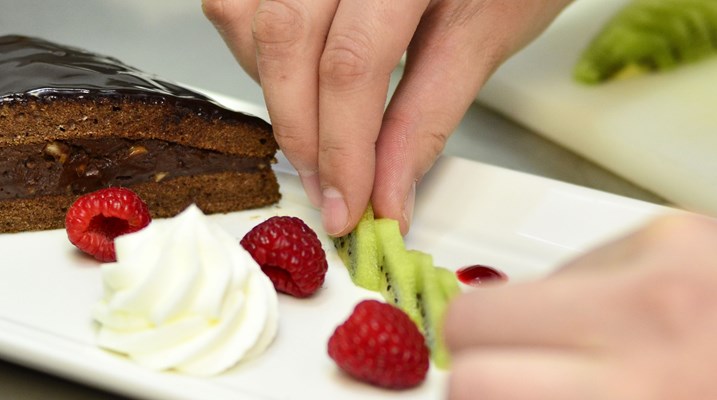 (NORTH BAY, ONT.) -- High school students from across the province will be competing for the title of Canadore College's Next Top Chef this Thursday.
The competition will see 11 student teams from Almaguin Highlands, Kemptville, North Bay, Parry Sound, Pembroke and Petawawa rival for the title. They are tasked with creating the best culinary presentation of a pasta dish that includes goat cheese, Paillard of chicken with a compound butter and an individual tart Tatin with Crème Anglaise.
"We've put together a pretty challenging menu for this year's contest," said Canadore chef and school of culinary arts professor Derek Lawday. "Being a good chef obviously demands a passion for food, but you also have to be a creative thinker and a team player with a good deal of stamina to work in a high-stress environment. I love seeing the students rise to occasion every year."

Menus will be judged by a panel of culinary experts based on taste, presentation, preparation, safety and sanitation and professionalism.
First prize winners will receive first semester tuition to a culinary program of their choice at Canadore College.

Date: Thursday, April 27
Time: 9:30 a.m. – 3 p.m.
Location: 100 Elements Canadore Dining Room (D113), College Drive Campus, 100 College Drive, North Bay, Ont.
Media and the general public are welcome to attend.
Canadore trains people through applied learning, leadership and innovation. It provides access to over 75 full-time quality programs and has outstanding faculty and student services. The College and its students add nearly $290 million to the regions of Nipissing and Parry Sound. Approximately 1,000 students graduate from Canadore each year, and they join 43,000 alumni working across the globe.
For more information, please contact: Jessica Charette at 705.475.2538 or jessica.charette@canadorecollege.ca; Carrie Richmond at 705.474.7600, ext. 5216 or carrie.richmond@canadorecollege.ca
---
---