All Stories
Land-Based STEM Summer Camp at Canadore
Jul 19, 2018 | Canadore College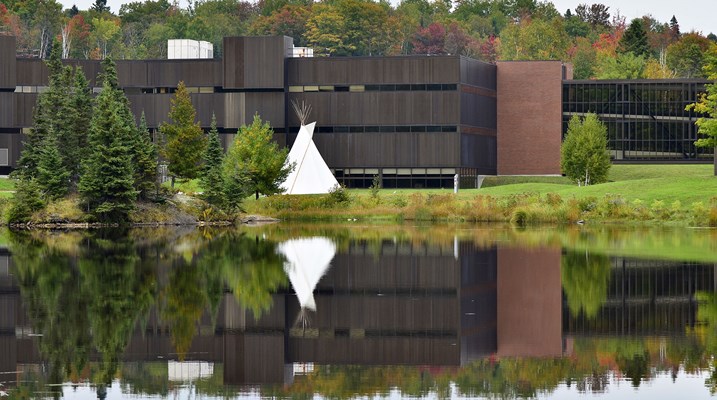 (NORTH BAY, ONT.) – Next week marks the beginning of an Indigenous land-based science summer camp for youth at Canadore College.
Camp Kikandaaswiwin Mookiisin, meaning 'knowledge springing forth, is open to Indigenous youth aged 14-18. They will spend 15 days at Camp Petawachuan in Dokis First Nation learning traditional teachings and participating in hands-on, land-based activities to explore Indigenous science, technology, engineering and math (STEM).
"The camp is designed to impart culturally-based teachings about land, water and creation and link them back to the roles and responsibilities we carry related to the environment and land use," said Patricia Chabbert, business and Indigenous relations manager at Canadore College. "So much can be done to foster leadership qualities and build consensus and community-building and that's really what this is all about."
The land-based camp is free to participants through Canadore College's partnership with Actua. Actua is a national charity that is preparing youth to be innovators and leaders by engaging them in exciting and accessible STEM experiences that build critical skills and confidence.
Similar Indigenous STEM camps are being offered across Canada, five of which are taking place in Ontario.
"Canadore's First Peoples' STEM program is currently being developed with a focus to engage Indigenous children, students and communities in science, technology, engineering and mathematics pathways," said Mary Wabano, director of Canadore's First Peoples' Centre and associate dean of the School of Indigenous Studies. "It celebrates the rich histories and modern technologies of Indigenous STEM knowledges, ensuring that content is relatable and inspiring to the fastest-growing and youngest population in Canada."
Wabano goes on to say that the college's STEM programming equally recognizes and respects the unique access and retention needs of Indigenous Peoples and that the innovative and land-based initiatives are deeply rooted in Indigenous cultural practices and values, nurturing future generations to achieve their potential and fulfill their critical role in the world.
Camp Kikandaaswiwin Mookiisin runs from July 22 – August 5 and each participant will earn an interdisciplinary high school credit and a Canadore College postsecondary credit.
Canadore College trains people through applied learning, leadership and innovation. It provides access to over 75 full-time quality programs and has outstanding faculty and success services to students from nearly 400 Canadian communities and 15 international countries. Nearly 20 percent of Canadore's total student population is of Ojibway, Oji-Cree, Cree Algonquin, Mohawk, Inuit or Métis decent from Ontario, Québec and nation-wide, one of the highest representations in the provincial college system.The College and its students add nearly $244 million to Nipissing Parry Sound Service Area economy. Approximately 1,000 students graduate from Canadore each year, and they join 44,000 alumni working across the globe. Canadore receives less than 50 per cent of its traditional funding from the provincial Ministry of Training, Colleges and Universities and relies on its own innovation and entrepreneurial endeavours and generous donors for the balance.
For more information, please contact: Jessica Charette at 705.475.2538 or jessica.charette@canadorecollege.ca; Carrie Richmond at 705.474.7600, ext. 5216 or carrie.richmond@canadorecollege.ca
#Aboriginal #Admissions #Collaboration #Credit Transfer Pathways #Experiential Learning #First Peoples' Centre #Access and Inclusion #Indigenous Studies #New #Profile #Program Development #Programs #Recruitment #Student Life
---
---