All Stories
Looking Back - A Student Perspective
Jul 31, 2018 | Matthew Reid, 2nd Year Broadcasting: TV/Video Production Student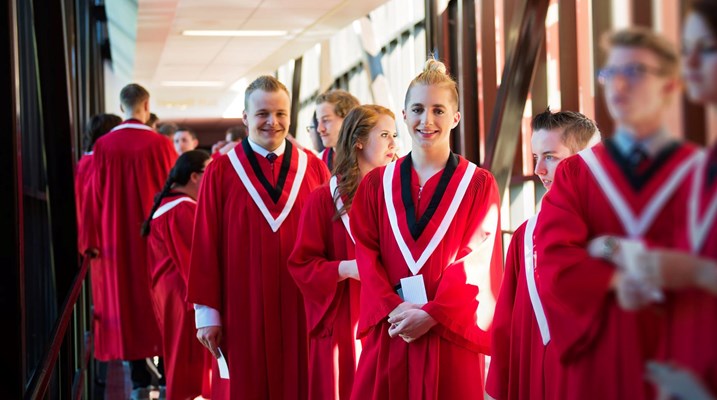 "In looking back, I see nothing to regret and little to correct." – John C. Calhoun.
My tenure at Canadore College began in September of 2016, when I began my first year of the Broadcasting: TV & Video Production program. I remember feeling an overwhelming surge of anxiety, something that I've struggled with for as long as I can remember. Yet, I knew this was the first step in the right direction for the career path I wanted to follow, and that alone was enough for me to press on.
The first year flew by, as I fostered new connections with like-minded people; people looking for a space to be able to create. During my first year, I learned lots about myself and the industry I knew I needed to break into. Through class projects, I found my passion in producing. The whole aspect of production, from pre-production to post; I knew I had discovered where I belonged professionally.
It wasn't until my second (and last) year in my program that I applied for part-time student work at Canadore. Luckily, I got the position as Social Media Assistant in the marketing department, where I met Rebecca Morin, the Web & Social Media Designer for the college. Rebecca quickly became not only my mentor, but my friend and confidant. Throughout my position in Canadore's marketing department, I was able to not only meet incredible people along the way, but I was able to polish my marketing and social media skills; making me more employable in the future.
The biggest part of my second year education was the 3-week mandatory job placement somewhere in the field of media. For a while, the placement held over my head like a dark cloud; the forecast including (but not limited to) overthinking about how where I chose to do my internship would affect my future, professionally and socially. I was one of the last of my peers to secure a placement, and it could not have worked out any better. Earlier to that decision, one of my professors, Mary Anne Holinshead, invited her old colleague, Sheldon Osmond, who is the director of The Agenda with Steve Paikin to speak to our class. Sheldon works at TVO, a company based out of Toronto that is responsible for most of our childhood shows on TVOKids.
Sheldon talked to our class about everything TVO, and what working in our field was like in the real world. He then mentioned something about TVO working on expanding their digital and online presence, and that's when my interest peaked. I quickly talked to my professor after class, and asked her if it would be possible to apply for a social media internship with TVO. She said yes, and next thing you knew I had scheduled a skype interview with the regional editor of the Ontario Hubs project at TVO, Mark Brosens.
During the interview, Mark asked me what I had to offer the company if I got my placement approved, and I mentioned that I would love to introduce TVO's content to a different demographic; through social media campaigns. I felt confident with how the interview went, despite some technical difficulties laughed off by both Mark and I. Within the next couple of days, I received an e-mail from Mark with an offer for a placement, which I happily accepted.
The three week placement went by faster than I thought was possible. I moved into my Airbnb and unpacked, and journeyed onto my first day in the big city. I walked to work every day, passing by the suburban niceties of Mount Pleasant Village, where I was living for my short but influential and educational term at TVO headquarters.
After meeting with Mark Brosens and Kathy Vey, two of my supervisors, I met the team in the CAD (Current Affairs and Documentaries) Department and began planning how to make the most out of my 3 week placement. I pitched the idea of making a behind the scenes campaign of the people that work at TVO, and let the Instagram audience for The Agenda learn more about the people that put the show together. This would allow the Instagram feed seem less robotic and more personable, driving engagement and sparking a further connection with the viewers.
Once approved, I began spearheading the campaign. I found the most incredible people around TVO, and began asking if they'd be interested. I was lucky to be partnered with Matthew O'Mara, a genius photographer and digital producer in the CAD Department who helped me capture the essence of the subjects I was interviewing. I scheduled the photoshoots, took some of the photos, and created a dialogue with the subjects I was interviewing to build profiles for each of them to be later used as the captions on Instagram.
Through my time at TVO, I learned from the social media head on different tools to maximize efficiency when juggling several different social media pages, I learned how to close caption certain clips for social media, and many more exciting items that allowed me to know for certain that this was the industry for me.
It was bittersweet leaving TVO, I knew that I had accomplished above and beyond what I wanted to, yet I had met so many inspirational and genuinely happy souls that it felt disparaging to leave.
I returned to Canadore College, and started my summer job in the marketing department. My official title was Social Media & Office Assistant, and it felt nice to be back on my stomping ground, so to speak. I was back under the wing of my mentor and friend, Rebecca Morin, and began the work load of moving back and forth each week between the College Drive & Commerce Court campuses.
As I write this, I am just under 3 weeks left of my job at Canadore. It is definitely saddening to know that this will be my last blog post on The Canadore Story, and I will be leaving the familiarity and the family I have fostered behind. Looking back, it has been a hell of an experience in my Canadore education. I have learned how to grow as a person and how to go forward in my career, I have learned professionality, crafted patience, and became the closest friends to those who know what they mean to me.
In looking back, I would do it all again.
#Alumni #Experiential Learning #Media #Student Life #Student Success Services
---
---