All Stories
Meet our Researcher - Jesse Russell
Aug 23, 2023 | Academic Centre of Excellence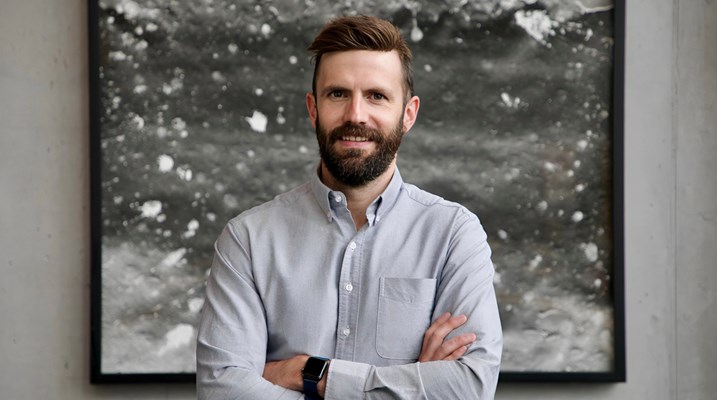 In this month's "Meet the Researcher" series, we spotlight Jesse Russell, a dedicated member of the Canadore Community whose unique journey has led him to play a pivotal role in driving sustainability initiatives within the College and beyond.
Jesse's path towards sustainability is not traditional; his passion for the subject was sparked by two fourth-year sustainability electives, which led to his current position. However, Jesse's academic journey began with the Police Foundations program at Canadore College, followed by an honours degree in Criminology (Law Concentration) from Carleton University. Certifications from York University (Cyber Security) and McMaster University (Carbon Mitigation and Circular Economy) further enriched his skill set. While aspiring to become a lawyer, a summer position with the RCMP transformed into a full-time role in the Criminal Intelligence Analytical Unit at the Canadian Anti-Fraud Centre. Subsequently, he contributed to the Fraud Management Division at Rogers HQ in Toronto. Seeking a change of pace, Jesse's love for North Bay brought him back to Canadore as the Coordinator of Recruitment before his true passion for sustainability led him to his current role as Project Leader.
Jesse is motivated to engage in research that enables him to collaborate to make a meaningful difference. He is focused on contributing to projects that will improve health outcomes for Indigenous and rural communities, with a particular interest in food and water initiatives. Jesse's research journey reflects his diverse background. His career in investigation has honed his ability to think creatively while remaining meticulous. As Canadore's Coordinator of Recruitment, he utilized research and data to make informed decisions. Now, as the Sustainable Development Project Leader, he is exploring ways to integrate the United Nations Sustainable Development Goals into college activities. This ensures that they align with Canadore's "Living Sustainability Plan."
Jesse's advice for colleagues navigating research is multifaceted. He emphasizes "the importance of being open-minded and receptive to different viewpoints and sources, as this can lead to innovative ideas. Embracing challenges and being adaptable to change is also important, and failure should not be feared as it can contribute to growth and resilience." Jesse also recommends taking a walk outdoors "to stimulate creative thinking, as even the simplest moments can lead to the next big idea."
For Jesse, the most fulfilling aspect of being part of the College is witnessing students' joy at graduation and helping students connect with the right job opportunities. His devotion to student achievement reflects the College's commitment to holistic development. Jesse strongly believes that applied research provides students with a unique opportunity to tackle some of the world's most crucial issues. He urges them to take advantage of this chance, participate actively, and help create meaningful solutions.
---
---