All Stories
Meet our Student Researchers - Hunter Hodgson
Mar 1, 2023 | Academic Centre of Excellence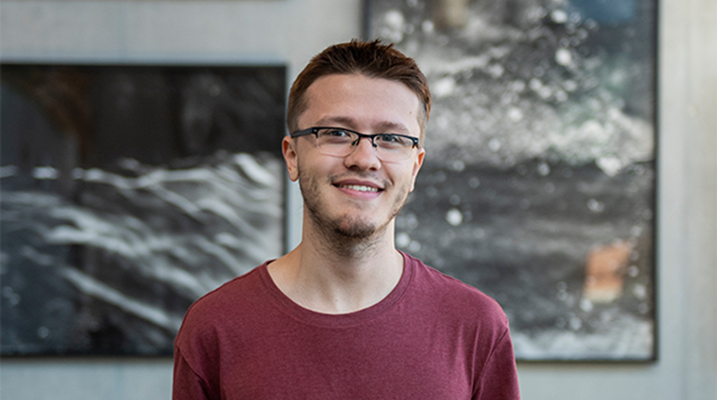 Student Researcher Profile: Hunter Hodgson
Hunter Hodgson, from Tillsonburg, Ontario, graduated from the Canadore College's Broadcasting - Television and Video Production Diploma Program and is now on his way to completing the Acting for Stage and Screen Advanced Diploma. In high school, he first made announcements for the school, and through time, he worked his way up to producing numerous events in North Bay, including TEDxCanadoreCollege 2022. He has assisted the research team at the Canadore Research Centre in planning multiple events and creating instructional films.
According to Hunter, "It has been so incredible to see firsthand how events as prestigious as TEDx are put together and how much effort and coordination it takes from all sorts of people." He had no idea how many people are needed in organizing a mega event until he had the opportunity to assist in its creation. This experience convinced him that an old adage is true: Behind every minute of the runtime is a week's worth of effort.
Hunter joined the Research Centre because he wanted to contribute his skills to the College in a meaningful way while learning more about real-world productions than just what he learned in class. Following his time at the Research Centre, he believes everyone working in a large team should understand two critical aspects: 1) "Deadlines arrive sooner than you think; the sooner you get work done, the better. If you promise to do work for someone, get the job done. You get the entire team down if you don't carry your load; and 2) "Swallow your pride. Your ego as an individual is far less important than the team's overall efforts. Give your team the room to accomplish their jobs while you do yours. Recognize their expertise and put your trust in them."
Hunter gained valuable experience dealing with large groups while working with the Research Centre, and now he has more confidence in his ability to overcome challenges. He understands a more profound knowledge of teamwork, organization, and remains in continual communication to operate efficiently and collaborate successfully. He also learned how to reach out to important people formally and confidently, which he considers a highly beneficial skill for someone who could get anxious talking to people.
Hunter had no clue there were so many ethical issues and regulations in research: "Research is far more meticulous than fictional media would have us believe," he argues. He wants students to know that research isn't just carried out on a whim; it demands tremendous time, effort, and consideration. He believes "any kind of research requires approval from several people before it can be done safely, so despite what the average person may think, researchers are not casually experimenting with things they don't understand."
---
---