All Stories
My Canadore Experience - Sara Burns
May 12, 2021 | Sara Burns, ECE Student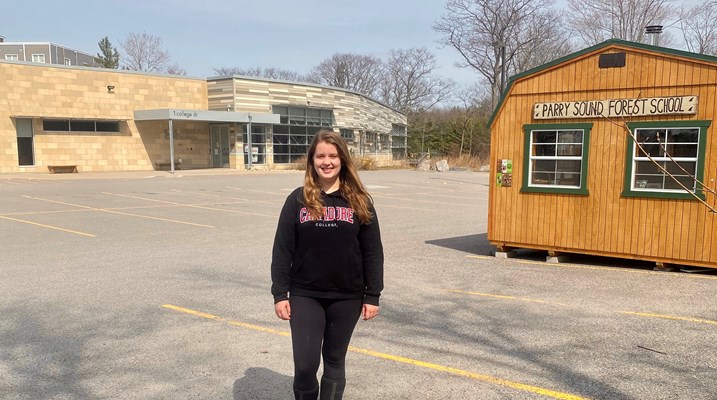 My name is Sara Burns, and I am a second year Early Childhood Education (ECE) student at Canadore College. I chose ECE because of my love of working with children and helping them reach their fullest potential while also having fun.
I decided to study at Canadore College in North Bay after starting my credits through the dual-credit program offered through Parry Sound High School.
The full course wasn't available at Canadore College in Parry Sound, and I heard many great things about the North Bay campus, so I took the next step in my education and moved to North Bay in the fall of 2019.
I am pleased with my choice of the ECE diploma program through Canadore. The campus location and facilities offered couldn't be better. My professors are amazing teachers, and they helped me reach my fullest potential from my first semester through the challenges of COVID-19.
For the ECE program, we must complete three workplace placements in our field. I started my first field placement at a North Bay daycare. During my placement, I learned the skills to take care of children from the ages of 18 months to 4 years of age.
After my placement ended, I was fortunate enough to be hired part-time throughout the rest of my studies. A few months after COVID-19 hit, I was forced to move home due to the shutdowns and began studying online.
Despite the stress of the times, our professors helped us through and we completed our first year.
When second year came around, we were still in lockdown and we weren't able to complete our second placement in a centre, so our professors ran an online placement for us, and it went smoothly. We learned a lot about child development, skills and practices to use in the future.
Our last semester began and we were able to take our third and final placement in a centre again. Since many of us did not move back to North Bay for online classes, we had the opportunity to do our placement in our home town. I was more than happy for the opportunity to complete my placement at the Parry Sound Forest School, which is located on the campus of Canadore College in Parry Sound.
Working at a forest school upon graduation was my plan from the start, and being able to learn about it before I worked in one was an amazing opportunity.
My professors had never had a student in a Forest School setting before, but they knew my passion for the outdoors and thought it would be an amazing opportunity for me.
I started my placement in March 2020 and have loved it ever since.
Here at the Parry Sound Forest School, we spend all day outside with the children. We do many activities such as going on hikes, climbing trees, building forts, cooking food over the fire and learning from the forest and animals around us.
The children here thrive in their learning through child-lead experiences and play.
Being outdoors for more than the suggested two hours of play a day is not only good for the body, but also the mind.
Since I started placement at the Forest School, I have noticed a difference in my own happiness and how my skills as an educator have improved.
To top it all off, I am now hired at the Parry Sound Forest School and begin work upon graduation.
I am so fortunate to have been given this opportunity by my professors and Canadore College, to further my education and to land where I wanted to be.
---
---