All Stories
National Recognition for Local Filmmaking Talent
Apr 3, 2017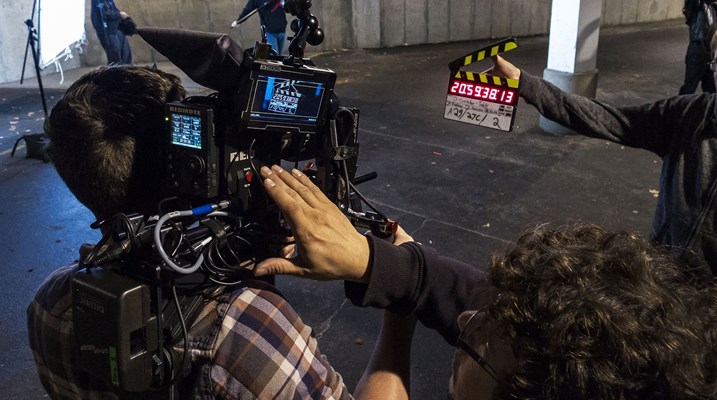 May 6, 2016
(NORTH BAY, ONT) – Three Canadore College students have been recognized for their filmmaking talent by the Broadcast Educators Association of Canada (BEAC).
Television and Video Production student, Alex Lamothe, won the Corporate/Client Based award for Essential Helicopters, Digital Cinematography student, Dale Carrigan, is the recipient of the Doc Short award for Camani and Matt Close, also a Digital Cinematography student, is the winner of the Drama or Comedy Short award for Mildly Illegal.
"This is a huge honour for our students, for their professors and for all of Canadore," said Yura Monestime, Interim Associate Dean of Media, Design and Dramatic Arts. "These are national awards, meaning that the productions were deemed to be the best of their kind in Canada. Our whole Canadore team is very proud of Alex, Dale and Matt."
The BEAC is dedicated to the professional development of faculty and administrators in radio, television, broadcast journalism and new media programs in provincially-accredited colleges and universities across Canada. As a part of its annual conference, it administers the BEAC National Awards program for students, recognizing broadcast and media industry leaders who contribute to broadcast education.
Lamothe, Carrigan and Close will receive their awards at the BEAC National Student Awards Gala to be held at the Atlantica Hotel in Halifax, N.S. on May 27. Essential Helicopters, Camani and Mildly Illegal are also contenders for the BEAC President's Prize Award, which will be announced that evening.
These productions were initially screened at Canadore College's annual School of Media, Design and Dramatic Arts Showcase at North Bay's Capitol Centre in April 2016, and can be viewed here - Essential Helicopters, Camani, with the use of the password "Canadore" and Mildly Illegal with the use of the password "canadore".
Canadore trains people through applied learning, leadership and innovation. It provides access to over 65 full-time quality programs and has outstanding faculty and student services. The College and its students add nearly $290 million to the regions of Nipissing and Parry Sound. Approximately 1,000 students graduate from Canadore each year, and they join 42,000 alumni working across the globe.
---
---