All Stories
New Online Program Provides Management Training to Tradespeople
Dec 5, 2018 | Canadore College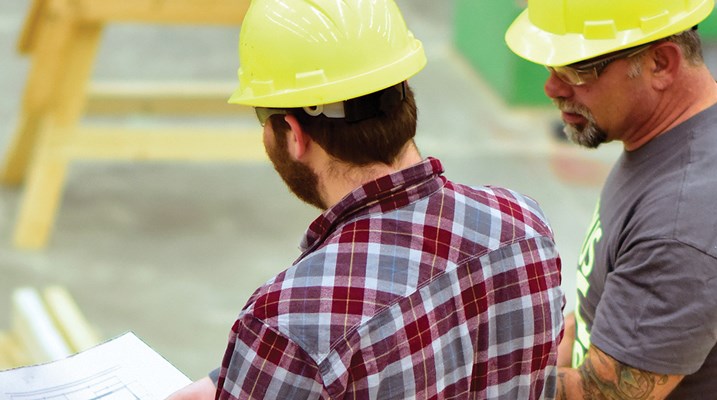 (NORTH BAY, ONT.) – Ontario's colleges have launched a new online business program that teaches management and entrepreneurial skills to certified tradespeople who are looking to run their own businesses.
"This is a unique solution for tradespeople who are looking to strengthen their business model," said George Burton, president and CEO of Canadore College. "Small businesses are a growth market in our economy and this program will create even more career opportunities for a wide range of tradespeople."
The new online business trades diploma is the first of its kind in Ontario. It is currently available through OntarioLearn for students who enroll through Algonquin College in Ottawa, Canadore College in North Bay and Lambton College in Sarnia. It will be expanded and available system-wide next year.
The completion program is available to tradespersons who possess a certificate of qualification. It allows them to develop business-related supervisory, management and entrepreneurial skills that are necessary to planning and managing a business, including the basics of finance, marketing, operations and human resources as well as legal, ethical and planning considerations. The flexible program design allows tradespeople to complete their program on a part-time basis.
Ontario's colleges continue to champion measures to allow more people to enroll in apprenticeship training and to successfully complete their programs. For example, colleges are encouraging the government to create a one-window application service to apprenticeship training by expanding the provincial application service for college students to include apprentices.
"Producing a more highly-qualified workforce for the skilled trades is a top priority in Ontario," said Ian Howcroft, CEO of Skills Ontario. "We're delighted that the province's colleges are continuing to pursue innovative and effective ways to help more people find rewarding careers in the trades. We look forward to working with Colleges Ontario to help realize maximum success."
Canadore College offers 30 trades and technology and apprenticeship programs in North Bay, Parry Sound and online. For more information, visit www.canadorecollege.ca/trades.
Canadore College trains people through applied learning, leadership and innovation. It provides access to over 75 full-time quality programs and has outstanding faculty and provides success services to students from nearly 400 Canadian communities and 15 international countries. The College and its students add nearly $244 million to Nipissing Parry Sound Service Area economy. Approximately 1,000 students graduate from Canadore each year, and they join 45,000 alumni working across the globe. Canadore receives less than 50 per cent of its traditional funding from the provincial Ministry of Training, Colleges and Universities and relies on its own innovation and entrepreneurial endeavors and generous donors for the balance.
For more information, please contact: Jessica Charette at 705.475.2538 or jessica.charette@canadorecollege.ca; Carrie Richmond at 705.474.7600, ext. 5216 or carrie.richmond@canadorecollege.ca
#Business #Collaboration #Continuing Education #Credit Transfer Pathways #Experiential Learning #General #New #Program Development #Programs #Recruitment #Trades and Tech
---
---