All Stories
Newest Canadore Alumni to Cross the Stage
Jun 12, 2018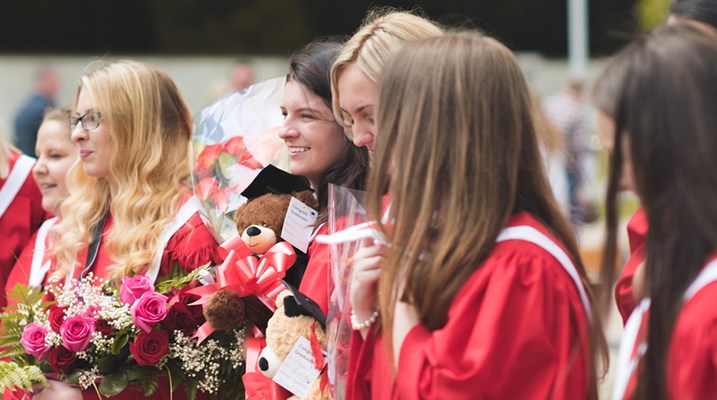 (NORTH BAY, ONT.) -- Canadore College is hosting its Convocation Ceremonies for the Schools Health, Human Care and Wellness; Environmental Studies and Biotechnology; and Indigenous Studies on June 14.
Guest speaker Jérémy Stevenson, chief executive officer of the North East Local Health Integration Network will be speaking to approximately 400 graduates.
Stevenson has held numerous positions in the Ontario health system including: president and CEO of the Mattawa Hospital an Algonquin Nursing Home, chief operating officer of the St-Francis Memorial Hospital in Barry's Bay, senior planner with the Champlain Local Health Integration Network and executive planning advisor and assistant to the president and CEO at the Hôpital Montfort in Ottawa. He is a member of the Canadian College of Health Leaders and the American College of Health Executives. Stevenson was awarded the Ontario Hospital Association's Small, Rural and Northern Healthcare Excellence Award in recognition of innovative leadership in collaborating and establishing and is the recipient of the Robert Zed Young Health Leader National Award from the Canadian College of Health Leaders. He holds a Masters of Health Administration and a Bachelor of Science in Occupational Therapy from the University of Ottawa, as well as an Administrator Certificate in Long-Term Care from the Ontario Association of Non-Profit Homes and Services for Seniors.
"I've known Jérémy for years, and his passion for providing northerners have access to quality health care shines through above all else," said George Burton, President and CEO of Canadore College. "We can all learn his unwavering commitment and positive determination."
Students from the First Nations Technical Institute (FNTI) located in Desoronto, Ont. receiving Canadore College credentials will also be in attendance.
Canadore College is very proud of its graduates for their accomplishments and for achieving their education goals. Each year, approximately 1,000 students graduate from the College, joining a network of 45,000 alumni working across the globe.
The ceremonies are being held at the College Drive Campus (100 College Drive, North Bay, Ont.) on June 14 at 10 a.m.
The remaining Convocation Ceremonies will take place on:
June 15, 10 a.m. – Business and Management; Community Justice and Police Studies; Culinary Arts; Language, Access and Preparatory Studies; Media, Design and Dramatic Arts; and Sport and Recreation (College Drive Campus)
June 28, 10 a.m. – Aviation Technology; and Trades and Technology (Aviation Technology Campus, 55 Aviation Avenue, North Bay, Ont.)
Canadore's convocation ceremonies are also being live streamed and relayed on TVCOGECO North Bay on channel 12 and in HD on channel 700; web viewers can tune in at http://www.canadoretv.com.
Canadore trains people through applied learning, leadership and innovation. It provides access to over 65 full-time quality programs and has outstanding faculty and student services. The College and its students add nearly $290 million to the regions of Nipissing and Parry Sound. Approximately 1,000 students graduate from Canadore each year, and they join 45,000 alumni working across the globe.
For more information, please contact: Jessica Charette at 705.475.2538 or jessica.charette@canadorecollege.ca; Carrie Richmond at 705.474.7600, ext. 5216 or carrie.richmond@canadorecollege.ca
#Board of Governors #Canadore Students' Council #College Drive #Credit Transfer Pathways #Employer Services #Enviro and Biotech #General #Health, Human, Wellness #Indigenous Studies #New #Programs #Student Life #Student Success Services
---
---